Home - Search - Browse - Alphabetic Index: 0- 1- 2- 3- 4- 5- 6- 7- 8- 9
A- B- C- D- E- F- G- H- I- J- K- L- M- N- O- P- Q- R- S- T- U- V- W- X- Y- Z
---
Apollo W-1
---
Part of Apollo CSM
---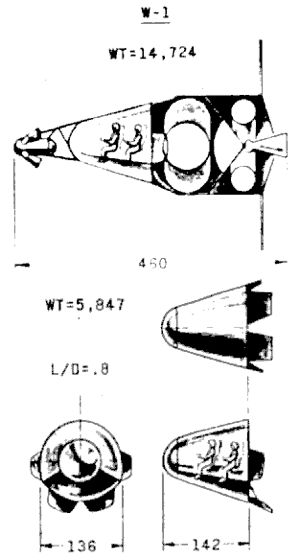 Apollo W1
Credit: NASA
American manned spacecraft. Study 1962. Martin's W-1 design for the Apollo spacecraft was an alternative to the preferred L-2C configuration. The 2652 kg command module was a blunt cone lifting body re-entry vehicle, 3.45 m in diameter, 3.61 m long.
Status: Study 1962. Gross mass: 6,677 kg (14,720 lb). Height: 11.40 m (37.40 ft).
The propulsion, equipment, and mission modules were identical with those proposed for the L-2C baseline. The RV shape was heavier than the W-1 but provided higher maneuverability (hypersonic L/D ratio of 0.75). Flaps and a parachute landing system being used for final recovery were used as in the L-2C. The circumlunar version had a total length of 11.4 m including a short launch escape tower and a fuelled mass of 6,677 kg.
A single crewmen was seated in the forward part of the vehicle, with the other two behind, in couches that rotated 90 degrees from launch to re-entry positions. A jettisonable mission module (not used on the circumlunar version) could also serve as a solar storm cellar, a laboratory, or even the descent stage of a lunar lander.
---
---
Family
:
Manned spacecraft
.
Country
:
USA
.
Launch Vehicles
:
Saturn V
.
Agency
:
Martin
.
---
---
Back to top of page
---
Home - Search - Browse - Alphabetic Index: 0- 1- 2- 3- 4- 5- 6- 7- 8- 9
A- B- C- D- E- F- G- H- I- J- K- L- M- N- O- P- Q- R- S- T- U- V- W- X- Y- Z
---
© 1997-2019 Mark Wade - Contact
© / Conditions for Use
---