Home - Search - Browse - Alphabetic Index: 0- 1- 2- 3- 4- 5- 6- 7- 8- 9
A- B- C- D- E- F- G- H- I- J- K- L- M- N- O- P- Q- R- S- T- U- V- W- X- Y- Z
---
Apollo Lenticular
---
Part of Apollo CSM
---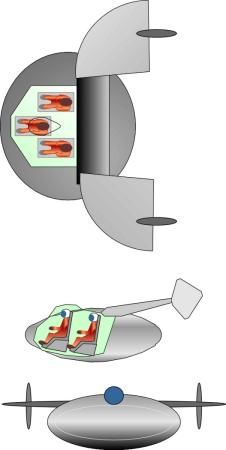 Apollo Lenticular
Credit: Mark Wade
American manned spacecraft. Study 1962. The Convair/Astronautics alternate Lenticular Apollo was a flying saucer configuration with the highest hypersonic lift to drag ratio (4.4) of any proposed design.
Status: Study 1962. Gross mass: 8,778 kg (19,352 lb). Height: 9.76 m (32.02 ft). Span: 4.88 m (16.01 ft).
The lenticular shape, with deployable wings for final approach, had first been suggested by Alan B. Kehlet of STG's New Projects Panel in 1959. The compact circumlunar version of the spacecraft was only 9.76 m long but also the heaviest Apollo proposed at 8,778 kg.
The saucer was 4.88 m in diameter but only 1.73 m deep, with a total mass of 2867 kg. The unique shape required reverse packaging at launch. Within a large conical shroud the propulsion module was at the top, followed by the saucer, then the pressurized mission module. The crew's seats were set back 90 degrees for launch, then brought upright for normal operations and landing. Access to the mission module was through a hatch in the bottom of the saucer.
Unlike the other Apollo designs, the lenticular required different propulsion and mission modules compared to the M-1 baseline. The lenticular design also provided difficult engineering problems in launch escape and arrangement of the modules. Although favored by many at NASA headquarters, the simpler ballistic approach won out in the end. The lenticular design was further developed by North American for the US Air Force as a 'space bomber' in the early 1960's.
---
---
Family
:
Lenticular Vehicles
,
Manned spacecraft
.
Country
:
USA
.
Launch Vehicles
:
Saturn I
,
Saturn V
.
Agency
:
Convair
.
---
Photo Gallery
---
---
Apollo Lenticular
Credit: NASA
---
---
---
Back to top of page
---
Home - Search - Browse - Alphabetic Index: 0- 1- 2- 3- 4- 5- 6- 7- 8- 9
A- B- C- D- E- F- G- H- I- J- K- L- M- N- O- P- Q- R- S- T- U- V- W- X- Y- Z
---
© 1997-2019 Mark Wade - Contact
© / Conditions for Use
---