Home - Search - Browse - Alphabetic Index: 0- 1- 2- 3- 4- 5- 6- 7- 8- 9
A- B- C- D- E- F- G- H- I- J- K- L- M- N- O- P- Q- R- S- T- U- V- W- X- Y- Z
---
APL satellite
---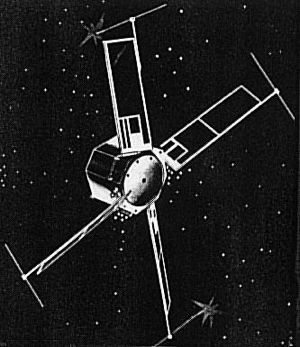 APL 1963-038C
Credit: USAF

American earth magnetosphere satellite. 3 launches, 1963.09.28 (APL SN 39) to 1964.12.13 (APL SN 43). Johns Hopkins University Applied Physics Laboratory built several satellites for the Air Force in the 1960's.

Status: Operational 1963. Gross mass: 64 kg (141 lb).

The missions of Satellite 1963-038C were to measure omnidirectional flux of protons and electrons at various energy levels, radiation effects on transistors, and the effectiveness of thermal coatings. The satellite was launched together with a classified Department of Defense spacecraft on September 28, 1963. Its orbit was apogee 1120 kilometers, perigee 1070 kilometers, inclination 88.9 degrees. The satellite weighed 62 kg; its body was in the shape of an 0.46 m x 0.25 m octagonal prism. It was powered by four solar blades and transmitted on 136, 162, and 324 mcs. The spacecraft was built for the Bureau of Naval Weapons. In 1967 it was still sending usable data from all systems.
---
---
Family: Earth, Magnetosphere sat, Medium earth orbit. Country: USA. Launch Vehicles: Delta, Thor Ablestar. Agency: APL, USAF, U.S. Navy. Bibliography: 2, 405, 6.
---
Photo Gallery
---
---
APL 1964-083C
Credit: USAF
---
---
---
Home - Search - Browse - Alphabetic Index: 0- 1- 2- 3- 4- 5- 6- 7- 8- 9
A- B- C- D- E- F- G- H- I- J- K- L- M- N- O- P- Q- R- S- T- U- V- W- X- Y- Z
---
© 1997-2017 Mark Wade - Contact
© / Conditions for Use
---