Home - Search - Browse - Alphabetic Index: 0- 1- 2- 3- 4- 5- 6- 7- 8- 9
A- B- C- D- E- F- G- H- I- J- K- L- M- N- O- P- Q- R- S- T- U- V- W- X- Y- Z
---
8K77
---
Part of R-9 Family
---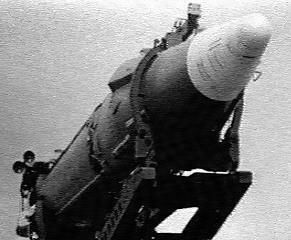 R-9 raised
R-9 raised to launch position
Credit: RKK Energia

Russian intercontinental ballistic missile. Version with vacuum-isolated liquid oxygen tanks to provide capability to hold ready for instant launch. Studied but never developed.

AKA: 8K77; 8K77.

Boost Propulsion: Liquid rocket, Lox/Kerosene.
---
---
Family: ICBM. Country: Russia. Stages: R-9A Stage 1, R-9A Stage 2. Agency: Korolev bureau.
---
---
Home - Search - Browse - Alphabetic Index: 0- 1- 2- 3- 4- 5- 6- 7- 8- 9
A- B- C- D- E- F- G- H- I- J- K- L- M- N- O- P- Q- R- S- T- U- V- W- X- Y- Z
---
© 1997-2017 Mark Wade - Contact
© / Conditions for Use
---