Home - Search - Browse - Alphabetic Index: 0- 1- 2- 3- 4- 5- 6- 7- 8- 9
A- B- C- D- E- F- G- H- I- J- K- L- M- N- O- P- Q- R- S- T- U- V- W- X- Y- Z
---
UoSAT
---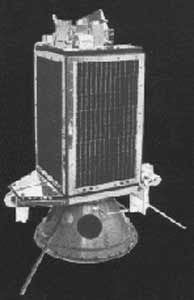 Oscar 9
Credit: Manufacturer Image

British amateur radio communications satellite. One launch, 2001.09.30, Picosat. Radio science; also carried amateur radio package. Communication and geophysics research satellite.

Status: Operational 2001. Gross mass: 50 kg (110 lb).
---
---
Subtopics
---
---
Family: Amateur radio communications satellite, Communications. Country: UK. Spacecraft: Athena Mars Flyby. Launch Vehicles: Athena-1. Agency: NASA, Surrey, University of Surrey. Bibliography: 2, 6.
---
---
Home - Search - Browse - Alphabetic Index: 0- 1- 2- 3- 4- 5- 6- 7- 8- 9
A- B- C- D- E- F- G- H- I- J- K- L- M- N- O- P- Q- R- S- T- U- V- W- X- Y- Z
---
© 1997-2017 Mark Wade - Contact
© / Conditions for Use
---