Home - Search - Browse - Alphabetic Index: 0- 1- 2- 3- 4- 5- 6- 7- 8- 9
A- B- C- D- E- F- G- H- I- J- K- L- M- N- O- P- Q- R- S- T- U- V- W- X- Y- Z
---
SovCanStar
---
---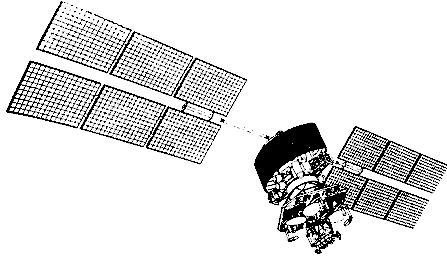 SovCanStar
Credit: USAF Phillips Laboratory
---
Russian communications satellite. Study 1990. One of the early Russian-Western satellite programs was SovCanStar, a 1990 joint venture with Canada.
Status: Study 1990. Gross mass: 2,600 kg (5,700 lb).
A preliminary plan to start the SovCanStar system quickly with Gorizont spacecraft was abandoned after the designated Gorizont vehicle was lost in the Proton accident of 27 May 1993. The enterprise then foundered and never launched a satellite.
The partners were Applied Mechanics NPO and a Canadian association of Com Dev Ltd., Canadian Satellite Communications, Inc., and General Discovery. Under the agreement the Russian side was to provide the spacecraft bus and the launch service (Proton), while the Canadians supplied the communications payload. The 2,600-kg SovCanStar spacecraft was designed to carry 24 Ku-band transponders (75 W output power) with four spares. The first two spacecraft were slated for 145 degrees E and 14 degrees W, and three additional locations to be determined later. The spacecraft bus had a strong resemblance to that of Gelikon which was being designed about the same time. The design life of SovCanStar was 10 years with a first launch expected about 1998.
---
---
Family
:
Communications
,
Geosynchronous orbit
.
Country
:
Russia
.
Agency
:
Reshetnev bureau
.
---
---
Back to top of page
---
Home - Search - Browse - Alphabetic Index: 0- 1- 2- 3- 4- 5- 6- 7- 8- 9
A- B- C- D- E- F- G- H- I- J- K- L- M- N- O- P- Q- R- S- T- U- V- W- X- Y- Z
---
© 1997-2019 Mark Wade - Contact
© / Conditions for Use
---