Home - Search - Browse - Alphabetic Index: 0- 1- 2- 3- 4- 5- 6- 7- 8- 9
A- B- C- D- E- F- G- H- I- J- K- L- M- N- O- P- Q- R- S- T- U- V- W- X- Y- Z
---
SJ-6
---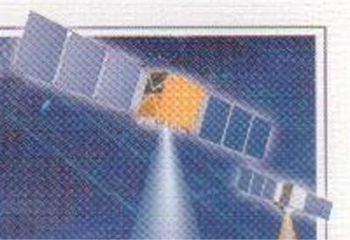 SJ-6-2A SJ-6C
Credit: Manufacturer Image

Chinese military surveillance satellite constellation. Each launch was said to consist of a primary satellite using the CAST968 bus and a subsatellite built by SAST Shanghai. Five pairs were launched from ?Taiyuan by the CZ-4B launch vehicle into 590 km, 97.7 deg inclination sun synchronous orbits from 2009. Reported to carry systems for optically tracking satellites in orbit. In 2013 SJ-15 was launched from Jiuquan, and SJ-16 from Taiyuan, in very similar but slightly different orbits. These may have been the successor system.

AKA: Shi Jian 6. Status: Operational 2004. First Launch: 2004-09-08. Last Launch: 2013-10-25. Number: 6 . Gross mass: 2,700 kg (5,900 lb).

Under cover of the SJ (Shijian) Chinese scientific research series, the government began launching pairs of satellites in 2006 that were believed to have a military ELINT mission.

The satellites were placed in sun-synchronous orbits at 600 km altitude. The second was separated about a minute after the first. The second pair was launched two years after the first. Chinese ELINT systems had been tested on earlier flights of the manned Shenzhou spacecraft's orbital module.
---
More at: SJ-6.
---
Family: Military naval signals reconnsat, SIGINT, Sun synchronous orbit, Surveillance, Technology. Country: China. Launch Vehicles: Chang Zheng 4B, Chang Zheng 4C. Launch Sites: Taiyuan, Taiyuan LC1. Agency: CAST. Bibliography: 2, 6, 13100, 13101, 13102.
---
Photo Gallery
---
---
Shi Jian 16
Credit: Manufacturer Image
---
---
---
Home - Search - Browse - Alphabetic Index: 0- 1- 2- 3- 4- 5- 6- 7- 8- 9
A- B- C- D- E- F- G- H- I- J- K- L- M- N- O- P- Q- R- S- T- U- V- W- X- Y- Z
---
© 1997-2017 Mark Wade - Contact
© / Conditions for Use
---