Home - Search - Browse - Alphabetic Index: 0- 1- 2- 3- 4- 5- 6- 7- 8- 9
A- B- C- D- E- F- G- H- I- J- K- L- M- N- O- P- Q- R- S- T- U- V- W- X- Y- Z
---
SDO
---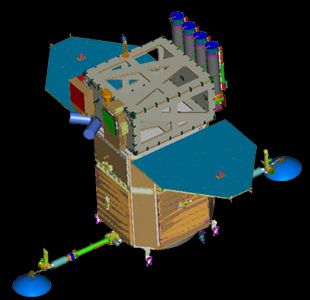 SDO
Credit: Manufacturer Image

NASA's Solar Dynamics Observatory mission was to observe the Sun for a five year period from an inclined geosynchronous orbit. From there the satellite could constantly download data to the White Sands ground station, while minimizing the time spent in Earth's shadow. The satellite's three instruments measured the extreme ultraviolet radiation output, returning up to 150 million bits of data per second. Solar Observatory satellite for NASA Goddard Space Flight Center, USA. Launched 2010.

Status: Operational 2010. First Launch: 2010-02-11. Last Launch: 2010-02-11. Number: 1 . Gross mass: 3,100 kg (6,800 lb).
---
More at: SDO.
---
Family: Astronomy. Country: USA. Engines: R-4D. Launch Vehicles: Atlas V, Atlas V 401. Launch Sites: Cape Canaveral, Cape Canaveral LC41. Bibliography: 11761, 13075.
---
---
Home - Search - Browse - Alphabetic Index: 0- 1- 2- 3- 4- 5- 6- 7- 8- 9
A- B- C- D- E- F- G- H- I- J- K- L- M- N- O- P- Q- R- S- T- U- V- W- X- Y- Z
---
© 1997-2017 Mark Wade - Contact
© / Conditions for Use
---