Home - Search - Browse - Alphabetic Index: 0- 1- 2- 3- 4- 5- 6- 7- 8- 9
A- B- C- D- E- F- G- H- I- J- K- L- M- N- O- P- Q- R- S- T- U- V- W- X- Y- Z
---
Saturn I RIFT
---
Part of Saturn I
---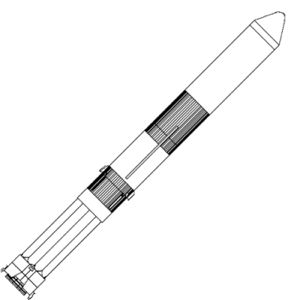 Saturn C-2 with RIFT
Saturn C-2 with RIFT (Reactor In-Flight Test) Nuclear upper stage
Credit: © Mark Wade
American nuclear orbital launch vehicle. In the first half of the 1960's it was planned to make suborbital tests of nuclear propulsion for upper stages using a Saturn IB first stage to boost a Rover-reactor powered second stage on a suborbital trajectory. The second stage would impact the Atlantic Ocean down range from Cape Canaveral.
Status: Development ended 1961. Thrust: 6,690.00 kN (1,503,970 lbf). Gross mass: 625,000 kg (1,377,000 lb). Height: 80.00 m (262.00 ft). Diameter: 6.52 m (21.39 ft).
---
---
Family
:
nuclear-powered
,
orbital launch vehicle
.
People
:
von Braun
.
Country
:
USA
.
---
---
1961 March 30 -
.
LV Family
:
Saturn I
.
Launch Vehicle
:
Saturn I RIFT
.
---
1961 December 7 -
.
LV Family
:
Saturn I
.
Launch Vehicle
:
Saturn I RIFT
.
Kiwi B-1A tests completed. - . Nation: USA. Program: NERVA.

Power run completed the test series on the Kiwi B-1A reactor system being conducted at the Nevada Test Site by AEC's Los Alamos Scientific Laboratory. Fourth in a series of test reactors in the joint AEC-NASA nuclear rocket propulsion program, Kiwi B-1A was disassembled for examination at the conclusion of the test runs.
---
---
Back to top of page
---
Home - Search - Browse - Alphabetic Index: 0- 1- 2- 3- 4- 5- 6- 7- 8- 9
A- B- C- D- E- F- G- H- I- J- K- L- M- N- O- P- Q- R- S- T- U- V- W- X- Y- Z
---
© 1997-2019 Mark Wade - Contact
© / Conditions for Use
---