Home - Search - Browse - Alphabetic Index: 0- 1- 2- 3- 4- 5- 6- 7- 8- 9
A- B- C- D- E- F- G- H- I- J- K- L- M- N- O- P- Q- R- S- T- U- V- W- X- Y- Z
---
S-IVB Advanced Station
---
Part of Skylab Family
---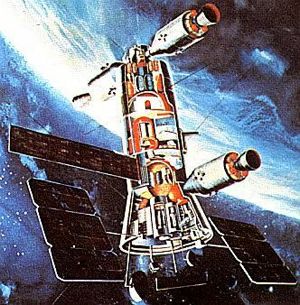 S-IVB Advanced Stati
Douglas design for a Skylab-follow-on using the S-IVB stage as the structure. This would have been launched in the late 1970's.

American manned space station. Study 1970. Follow-on to Skylab proposed by Douglas. The station would still use the S-IVB stage as the basis, but would be much more extensively outfitted for larger crews.

Status: Study 1970.
---
---
Family: Space station, Space station orbit, USA - Space Stations. Country: USA. Launch Vehicles: Saturn V. Agency: Douglas. Bibliography: 36.
---
---
Home - Search - Browse - Alphabetic Index: 0- 1- 2- 3- 4- 5- 6- 7- 8- 9
A- B- C- D- E- F- G- H- I- J- K- L- M- N- O- P- Q- R- S- T- U- V- W- X- Y- Z
---
© 1997-2017 Mark Wade - Contact
© / Conditions for Use
---