Home - Search - Browse - Alphabetic Index: 0- 1- 2- 3- 4- 5- 6- 7- 8- 9
A- B- C- D- E- F- G- H- I- J- K- L- M- N- O- P- Q- R- S- T- U- V- W- X- Y- Z
---
RD-180
---
Part of RD-170
---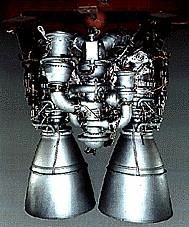 RD-180
Credit: Lockheed Martin
Glushko LOx/Kerosene rocket engine. Atlas III, Atlas V stage 1. In production. First flight 2000. Two-thrust-chamber derivative of the four-chamber RD-170 used on Zenit.
Status: In production. Date: 1993-99, 1992-. Number: 14 . Thrust: 4,152.00 kN (933,406 lbf). Unfuelled mass: 5,480 kg (12,080 lb). Specific impulse: 339 s. Specific impulse sea level: 313 s. Burn time: 270 s. Height: 3.56 m (11.67 ft). Diameter: 3.15 m (10.33 ft).
The RD-180 was a two-thrust-chamber derivative of the four-chamber RD-170. It packaged the high performance, operability, and reusability features of the RD-170 in a size to meet the propulsion requirements for the Atlas V Evolved Expendable Launch Vehicle. The RD-180 was a total propulsion unit with hydraulics for control valve actuation and thrust vector gimbaling, pneumatics for valve actuation and system purging, and a thrust frame to distribute loads, all self-contained as part of the engine. The engine, employing a LOX lead start, staged combustion cycle, and LOX rich turbine drive, delivered a 10 percent performance increase over then-operational US booster engines and provided clean, reusable operation. Only the main turbo-pump assembly and boost pumps required development and they were scalable from the RD-120 and RD-170 engines. All other components were taken directly from the RD-170. The RD-180 was developed in 42 months at a small fraction of the cost of a typical US new engine development. The engine powered the interim Atlas III and standard Atlas V launch vehicles.
General Description:
Staged combustion cycle engine
LOX/Kerosene propellants
Two thrust chambers (gimbal +8 degrees)
One oxygen rich pre-burner
High pressure turbopump assembly
Two-stage fuel pump
Single-stage oxygen pump
Single turbine
Hypergolic ignition
Self-contained hydraulic system (valves, TVC) powered with kerosene from fuel pump
Health monitoring and life prediction system
Automated flight preparation (after installation on the vehicle, all operations are automated through launch)
Minimized interfaces with launch pad and vehicle (pneumatic and hydraulic systems self-contained, electrical panels consolidated, thrust frame to simplify mechanical interface)
Environmentally clean operations with staged combustion oxidizer rich pre-burner, and oxidizer start and shutdown modes that eliminate coking and unburned kerosene pollution potential
50 - 100% continuous throttling provided potential for real time trajectory matching and engine checkout on the pad before launch commit
80% RD-170 parts
Chamber Pressure: 256.6 bar.
Area Ratio: 36.4.
Thrust to Weight Ratio: 77.26.
Oxidizer to Fuel Ratio: 2.72.
---
---
Country
:
Russia
.
Launch Vehicles
:
Timberwind Centaur
,
Atlas 3A
,
Atlas 3B
.
Propellants
:
Lox/Kerosene
.
Stages
:
Atlas CCB
,
Atlas IIIA
.
Agency
:
Glushko bureau
.
Bibliography
:
287
,
342
,
355
,
7504
.
---
Photo Gallery
---
---
| | |
| --- | --- |
| | RD-180 |
---
---
---
Back to top of page
---
Home - Search - Browse - Alphabetic Index: 0- 1- 2- 3- 4- 5- 6- 7- 8- 9
A- B- C- D- E- F- G- H- I- J- K- L- M- N- O- P- Q- R- S- T- U- V- W- X- Y- Z
---
© 1997-2019 Mark Wade - Contact
© / Conditions for Use
---