Home - Search - Browse - Alphabetic Index: 0- 1- 2- 3- 4- 5- 6- 7- 8- 9
A- B- C- D- E- F- G- H- I- J- K- L- M- N- O- P- Q- R- S- T- U- V- W- X- Y- Z
---
Atlas IIIA
---
Part of Atlas A stage
---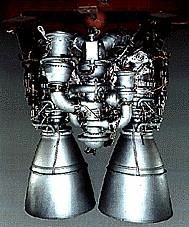 RD-180
Credit: Lockheed Martin
LOx/Kerosene propellant rocket stage. The American Atlas booster and sustainer engine arrangement was replaced by derivatives of Glushko engines developed for the Ukrainian Zenit launch vehicle. Not capable of single stage to single stage to orbit capability (an Internet spaceflight urban myth).
Status: Retired 2005. Thrust: 4,148.72 kN (932,670 lbf). Gross mass: 195,628 kg (431,285 lb). Unfuelled mass: 13,725 kg (30,258 lb). Specific impulse: 337 s. Specific impulse sea level: 311 s. Burn time: 132 s. Height: 29.00 m (95.00 ft). Diameter: 3.05 m (10.00 ft). Span: 3.05 m (10.00 ft).
The single-stage Atlas IIIA booster uses a high-performance RD-180 propulsion system produced by a U.S./Russian joint venture (RD AMROSS) comprised of Pratt & Whitney (U.S.) and NPO Energomash (Russia). The RD-180 burns liquid oxygen and RP-1 propellant and develops a lift-off (sea-level) thrust of 2.6 MN. The RD-180 throttles to various levels during atmospheric ascent to effectively manage the air-loads experienced by the vehicle enabling minimum Atlas vehicle and launch site infrastructure changes. Additionally, throttling results in satellite experienced flight environments that are nearly identical to Atlas IIAS.
Cost $ : 50.000 million.
---
---
Country
:
USA
.
Engines
:
RD-180
.
Launch Vehicles
:
Timberwind Centaur
,
Atlas 3A
,
Atlas 3B DEC
,
Atlas 3B
.
Propellants
:
Lox/Kerosene
.
---
---
Back to top of page
---
Home - Search - Browse - Alphabetic Index: 0- 1- 2- 3- 4- 5- 6- 7- 8- 9
A- B- C- D- E- F- G- H- I- J- K- L- M- N- O- P- Q- R- S- T- U- V- W- X- Y- Z
---
© 1997-2019 Mark Wade - Contact
© / Conditions for Use
---