Home - Search - Browse - Alphabetic Index: 0- 1- 2- 3- 4- 5- 6- 7- 8- 9
A- B- C- D- E- F- G- H- I- J- K- L- M- N- O- P- Q- R- S- T- U- V- W- X- Y- Z
---
R-56 Polyblock ICBM
---
Part of R-56 Family
---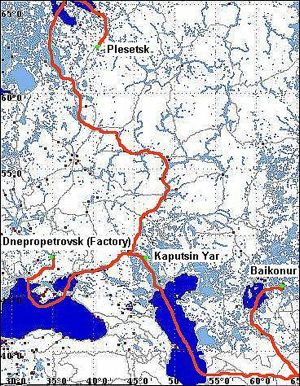 R-56 Transport Route
R-56 Transport Routes from the Yangel factory to the cosmodromes via the Soviet canal system.
Credit: © Mark Wade

Ukrainian intercontinental ballistic missile. TsNIIMash has 1:10 structural simulation model. Three stage carrier rocket with consecutive first and parallel second stages. Range indicated on placard; possibly considered as monster ICBM in competition with UR-500. Work began in 1961.

AKA: 8K68. Payload: 35,000 kg (77,000 lb). Gross mass: 1,197,000 kg (2,638,000 lb).

Maximum range: 16,000 km (9,000 mi).
---
---
Family: ICBM. Country: Ukraine. Stages: R-56 Polyblock Stage B, R-56 Polyblock Stage A. Agency: Yuzhnoye.
---
---
Home - Search - Browse - Alphabetic Index: 0- 1- 2- 3- 4- 5- 6- 7- 8- 9
A- B- C- D- E- F- G- H- I- J- K- L- M- N- O- P- Q- R- S- T- U- V- W- X- Y- Z
---
© 1997-2017 Mark Wade - Contact
© / Conditions for Use
---