Home - Search - Browse - Alphabetic Index: 0- 1- 2- 3- 4- 5- 6- 7- 8- 9
A- B- C- D- E- F- G- H- I- J- K- L- M- N- O- P- Q- R- S- T- U- V- W- X- Y- Z
---
Progress M2
---
Part of Soyuz
---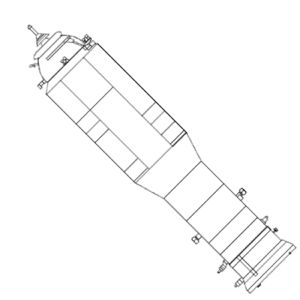 Progress Zenit
Drawing of Zenit-launched Progress M2 logistics craft for support of the international space station (cancelled).
Credit: © Mark Wade
Russian logistics spacecraft. Cancelled 1993. As Phase 2 of the third generation Soviet space systems it was planned to use a more capable resupply craft for the Mir-2 space station.
AKA: 11F615A75;11F615A77;7K-TGM2. Status: Cancelled 1993. Payload: 5,700 kg (12,500 lb). Gross mass: 13,300 kg (29,300 lb). Height: 12.60 m (41.30 ft). Span: 3.00 m (9.80 ft).
By using the Zenit launch vehicle the Progress M service module could accommodate much larger cargo or space station modules.
The planned Progress-M2 11F615A75 was originally designed for use with the 90 metric ton module Mir-2. Redesigned in 1992-1993 for use with the more modest Mir-2 it had a revised index number of 11F615A77. The 13.3 metric ton, 12.6 m long vehicle consisted of the 5.3 metric ton service module, a 2.3 metric ton pressurized forward module equipped with a docking port, and could hold 5.7 metric tons of cargo. It could also be outfitted as a laboratory and left docked with the Mir-2.
After the cancellation of Mir-2 and its incorporation into the International Space Station, Progress M2 was at first considered as the resupply craft. But as Russia's financial crisis deepened, and in recognition that the booster for the spacecraft was built in a foreign country (the Ukraine), the design was dropped.
---
---
Family
:
Logistics spacecraft
,
Space station orbit
.
Country
:
Russia
.
Agency
:
Korolev bureau
.
Bibliography
:
102
,
8
.
---
Photo Gallery
---
---
Progress-Zenit
Progress Zenit Cutaway
Credit: © Mark Wade
---
---
---
Back to top of page
---
Home - Search - Browse - Alphabetic Index: 0- 1- 2- 3- 4- 5- 6- 7- 8- 9
A- B- C- D- E- F- G- H- I- J- K- L- M- N- O- P- Q- R- S- T- U- V- W- X- Y- Z
---
© 1997-2019 Mark Wade - Contact
© / Conditions for Use
---