Home - Search - Browse - Alphabetic Index: 0- 1- 2- 3- 4- 5- 6- 7- 8- 9
A- B- C- D- E- F- G- H- I- J- K- L- M- N- O- P- Q- R- S- T- U- V- W- X- Y- Z
---
LSV
---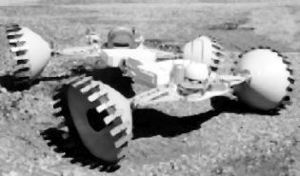 Lunar Sortie Vehicle
Credit: NASA
American manned lunar rover. Study 1971. The Lunar Sortie Vehicle (LSV), was a North American Rockwell design of 1971, conceived as a railroad train without the rails.
AKA: Lunar Sortie Vehicle. Status: Study 1971.
The LSV consisted of three pressurized units and several unpressurized power, utility/equipment trailers
One pressurized unit served as the locomotive at the front of the caravan. The pressurized units were typical cylindrical pressure vessels with spherical end caps. A Mobile Power Unit, one of the unpressurized units in the middle of the train, used a large radiothermal generator using plutonium or other isotopes to generate 3.5 kW of power. The front pressurized unit contained six wheels and served to propel the train. A crew of 6 could be accommodated for a total mission length of 90 days.
Crew Size: 6. Electric System: 3.50 average kW.
---
---
Family
:
Lunar Rovers
,
Moon
.
Country
:
USA
.
Agency
:
NASA
,
North American
.
Bibliography
:
1995
.
---
---
Back to top of page
---
Home - Search - Browse - Alphabetic Index: 0- 1- 2- 3- 4- 5- 6- 7- 8- 9
A- B- C- D- E- F- G- H- I- J- K- L- M- N- O- P- Q- R- S- T- U- V- W- X- Y- Z
---
© 1997-2019 Mark Wade - Contact
© / Conditions for Use
---