Home - Search - Browse - Alphabetic Index: 0- 1- 2- 3- 4- 5- 6- 7- 8- 9
A- B- C- D- E- F- G- H- I- J- K- L- M- N- O- P- Q- R- S- T- U- V- W- X- Y- Z
---
Light Utility Rover
---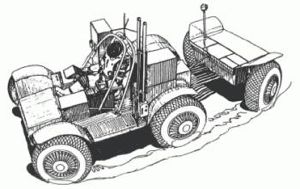 Light Utility Rover
American manned lunar rover. Study 1990. In 1990, Boeing Advanced Civil Space Systems performed an Advanced Civil Space Systems Piloted Rover Technology Assessment Study, which considered both a large pressurized and a small unpressurized rover.
Status: Study 1990. Gross mass: 990 kg (2,180 lb). Height: 4.06 m (13.32 ft). Diameter: 2.34 m (7.67 ft).
The smaller, Light Utility Rover, would provide 8 hours life support for 2 crew members.
It was designed to transport the crew plus 200 kg of equipment or 300 kg of bulk materials, and perform other light construction and hauling tasks. It had a mass of 984 kg, a length of 4.06 m, and a width of 2.34 m. It was designed for a ground clearance of 0.47 m. Total power was 1 kW, with motors in each drive wheel. Power was supplied by either rechargeable batteries or fuel cells.
Crew Size: 2. Electric System: 1.00 average kW.
---
---
Family
:
Lunar Rovers
,
Moon
.
Country
:
USA
.
Agency
:
NASA
,
Boeing
.
Bibliography
:
1995
.
---
---
Back to top of page
---
Home - Search - Browse - Alphabetic Index: 0- 1- 2- 3- 4- 5- 6- 7- 8- 9
A- B- C- D- E- F- G- H- I- J- K- L- M- N- O- P- Q- R- S- T- U- V- W- X- Y- Z
---
© 1997-2019 Mark Wade - Contact
© / Conditions for Use
---