Home - Search - Browse - Alphabetic Index: 0- 1- 2- 3- 4- 5- 6- 7- 8- 9
A- B- C- D- E- F- G- H- I- J- K- L- M- N- O- P- Q- R- S- T- U- V- W- X- Y- Z
---
LARES
CLICK HERE FOR CURRENT AND MORE COMPLETE INFORMATION
ON THIS TOPIC AT OUR PARTNER SITE
---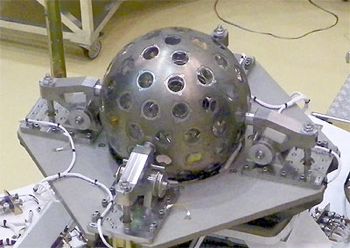 LARES
Credit: Manufacturer Image

Laser Relativity Satellite, a 390 kg, 0.38 m diameter tungsten sphere covered with 92 laser retroreflectors. Used to probe relativistic effects in the Earth's gravitational field. The satellite had the lowest ballistic coefficient of any satellite ever launched. Italian Vega launch vehicle. Basic research, Geodesy satellite built by Carlo Gavazzi Space SpA for ASI, Italy. Launched 2012.

Status: Operational 2012. First Launch: 2012-02-13. Last Launch: 2012-02-13. Number: 1 . Gross mass: 390 kg (850 lb). Apogee: 1,452 km (902 mi).
---
More at: LARES.
---
Family: Earth. Country: Italy. Launch Vehicles: Vega. Launch Sites: Kourou ELV.
---
---
Home - Search - Browse - Alphabetic Index: 0- 1- 2- 3- 4- 5- 6- 7- 8- 9
A- B- C- D- E- F- G- H- I- J- K- L- M- N- O- P- Q- R- S- T- U- V- W- X- Y- Z
---
© 1997-2017 Mark Wade - Contact
© / Conditions for Use
---