Home - Search - Browse - Alphabetic Index: 0- 1- 2- 3- 4- 5- 6- 7- 8- 9
A- B- C- D- E- F- G- H- I- J- K- L- M- N- O- P- Q- R- S- T- U- V- W- X- Y- Z
---
KT-2
---
Part of DF-31 Family
---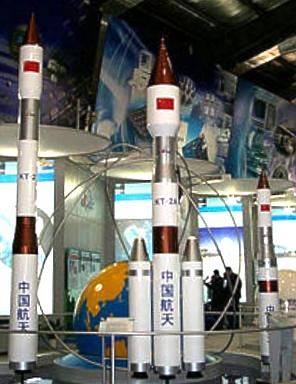 KT-2 & KT-2A

Intermediate all-solid propellant Chinese launch vehicle. Model first displayed at Wuzhai in the fall of 2002. Evidently consists of new large diameter first stage motor, topped by the first two stages of the basic KT-1 vehicle. All figures are rough estimates.

AKA: Kaituozhe-2;SLV-2. Status: Development ended 2002. Payload: 800 kg (1,760 lb). Gross mass: 40,000 kg (88,000 lb). Height: 35.00 m (114.00 ft). Diameter: 2.70 m (8.80 ft). Apogee: 500 km (310 mi).

LEO Payload: 800 kg (1,760 lb) to a 500 km orbit at 98.00 degrees.
---
---
Family: all-solid, orbital launch vehicle. Country: China. Agency: KT, Space Solid Fuel Rocket Carrier Co Ltd.
---
---
2017 March 2 - . 23:53 GMT - . Launch Site: Jiuquan. LV Family: DF-31. Launch Vehicle: KT-2.
Tiankun-1 - . Payload: TK-1. Nation: China. Class: Technology. Type: Technology satellite. USAF Sat Cat: 42061 . COSPAR: 2017-012A. Apogee: 404 km (251 mi). Perigee: 373 km (231 mi). Inclination: 96.9000 deg.

China's CASIC missile agency launched the KT-2, a new orbital launch vehicle developed by CASIC's 4th Academy. It placed a small satellite, Tiankun-1, in orbit. Tiankun 1, built by the CASIC 2nd Academy (CCMETA), was a test of a new satellite bus and probably has a mass of a few hundred kg.
---
---
Home - Search - Browse - Alphabetic Index: 0- 1- 2- 3- 4- 5- 6- 7- 8- 9
A- B- C- D- E- F- G- H- I- J- K- L- M- N- O- P- Q- R- S- T- U- V- W- X- Y- Z
---
© 1997-2017 Mark Wade - Contact
© / Conditions for Use
---