Home - Search - Browse - Alphabetic Index: 0- 1- 2- 3- 4- 5- 6- 7- 8- 9
A- B- C- D- E- F- G- H- I- J- K- L- M- N- O- P- Q- R- S- T- U- V- W- X- Y- Z
---
Kepler
---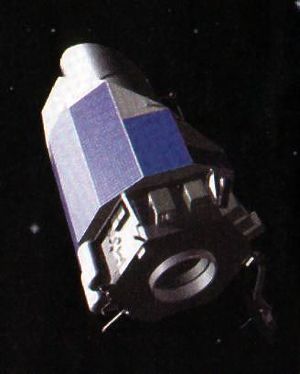 Kepler

NEED WRITEUP Astrometry satellite built by Ball Aerospace / JPL for NASA, USA. Launched 2009.

Status: Operational 2009. First Launch: 2009-03-07. Last Launch: 2009-03-07. Number: 1 . Gross mass: 1,039 kg (2,290 lb).

NASA NSSDC Master Catalog Description

Kepler is an American (NASA) astronomy probe launched by a Delta 2 rocket from Cape Canaveral at 03:50 UT on 07 March 2009. Kepler's mission is to search for Earth-sized planets around other stars by looking for brightness variations in over 100,000 stars in the Cygnus-Lyra region. The photometer on Kepler will continuously monitor the same star-field in a 12-degree field of view over the nominal 3.5 year lifetime, allowing multiple observations of transits of exoplanets in orbits up to one year. To help fulfill the science objectives, the 1,052 kg spacecraft was placed into a solar orbit of period 372.5 days. This orbit helps maintain a stable pointing attitude.
---
More at: Kepler.
---
Family: Astronomy. Country: USA. Launch Vehicles: Thor, Delta 7925-10L. Launch Sites: Cape Canaveral LC17B. Bibliography: 6615, 12712.
---
Photo Gallery
---
---
Kepler
Credit: Manufacturer Image
---
---
---
1571 December 27 - .
---
2009 March 7 - . 03:50 GMT - . Launch Site: Cape Canaveral. Launch Complex: Cape Canaveral LC17B. Launch Pad: SLC17B. LV Family: Thor. Launch Vehicle: Delta 7925-10L.
Kepler - . Mass: 1,050 kg (2,310 lb). Nation: USA. Agency: Martin. Class: Astronomy. Type: Interstellar planetary detection satellite. Spacecraft: Kepler. USAF Sat Cat: 34380 . COSPAR: 2009-011A.

Used a 0.95-meter aperture differential photometer with a 105 deg2 field of view to constantly view 145,000 main-sequence stars, detecting planets orbiting around those stars when the planets passed in front of them, dimming them during transit. In its first three years of operation, Kepler detected over 2,000 possible planets, and it was determined that 5.4% of all stars host Earth-size planet candidates, and that 17% of all stars had planets.
---
---
Home - Search - Browse - Alphabetic Index: 0- 1- 2- 3- 4- 5- 6- 7- 8- 9
A- B- C- D- E- F- G- H- I- J- K- L- M- N- O- P- Q- R- S- T- U- V- W- X- Y- Z
---
© 1997-2017 Mark Wade - Contact
© / Conditions for Use
---