Home - Search - Browse - Alphabetic Index: 0- 1- 2- 3- 4- 5- 6- 7- 8- 9
A- B- C- D- E- F- G- H- I- J- K- L- M- N- O- P- Q- R- S- T- U- V- W- X- Y- Z
---
JAWSAT
---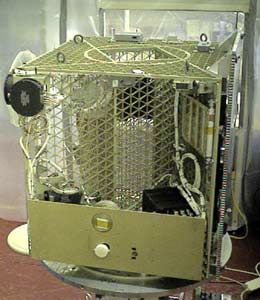 JAWSAT
Credit: Manufacturer Image

American technology satellite. The JAWSAT/FalconSat payloads are being developed as a joint effort between the Air Force Academy and Weber State University. Experimental satellite built by One Stop Satellite Solutions (OSSS) (structure) for Air Force Academy, Weber State University Satellite, USAF STP (Space Test Program), USA. Launched 2000.

Status: Operational 2000. First Launch: 2000-01-27. Last Launch: 2000-01-27. Number: 1 . Gross mass: 191 kg (421 lb).

The JAWSAT and FalconSat satellites, along with several micro-satellites, will be the first payloads to fly on the converted Minuteman in late 1999.
---
More at: JAWSAT.
---
Family: Technology, Technology satellite. Country: USA. Launch Vehicles: Minuteman, Minotaur, Minotaur 1. Launch Sites: Vandenberg, Vandenberg SLC8. Agency: Weber, USAFA. Bibliography: 2, 426, 552, 554, 6607, 12702.
---
Photo Gallery
---
---
JAWSAT
Credit: Manufacturer Image
---
---
---
2000 January 27 - . 03:03 GMT - . Launch Site: Vandenberg. Launch Complex: Vandenberg SLC8. LV Family: Minuteman. Launch Vehicle: Minotaur 1.
JAWSAT - . Payload: P98-1. Mass: 64 kg (141 lb). Nation: USA. Agency: USAF AFMC. Manufacturer: Weber. Class: Technology. Type: Navigation technology satellite. Spacecraft: JAWSAT. USAF Sat Cat: 26061 . COSPAR: 2000-004A. Apogee: 805 km (501 mi). Perigee: 753 km (468 mi). Inclination: 100.1976 deg. Period: 100.36 min. Joint USAF Academy/Weber State Satellite. Payloads included a plasma experiment, a particle detector, and a technology test..
---
---
Home - Search - Browse - Alphabetic Index: 0- 1- 2- 3- 4- 5- 6- 7- 8- 9
A- B- C- D- E- F- G- H- I- J- K- L- M- N- O- P- Q- R- S- T- U- V- W- X- Y- Z
---
© 1997-2017 Mark Wade - Contact
© / Conditions for Use
---