Home - Search - Browse - Alphabetic Index: 0- 1- 2- 3- 4- 5- 6- 7- 8- 9
A- B- C- D- E- F- G- H- I- J- K- L- M- N- O- P- Q- R- S- T- U- V- W- X- Y- Z
---
Hilburn, Earl D
---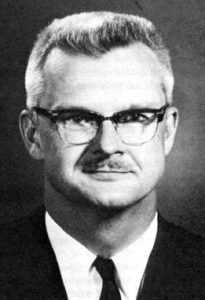 Hilburn
Credit: NASA

American engineer. At NASA 1963-1966, in charge of industrial affairs. Later President of Western Union.

Born: 1920-04-16. Died: 1989-01-10.

Earl D. Hilburn was trained in physics and mathematics at the University of Wisconsin and worked for more than twenty years in the electronics and aerospace industry before accepting a position at NASA in 1963 as Deputy Associate Administrator. In that post he was responsible for industry affairs, and helped maintain liaison with the far-flung corporations involved in the production of NASA space hardware. In 1966 he left NASA and became president of Western Union.
---
---
Country: USA. Agency: NASA. Bibliography: 535.
---
---
1920 April 16 - .
---
1989 January 10 - .
---
---
Home - Search - Browse - Alphabetic Index: 0- 1- 2- 3- 4- 5- 6- 7- 8- 9
A- B- C- D- E- F- G- H- I- J- K- L- M- N- O- P- Q- R- S- T- U- V- W- X- Y- Z
---
© 1997-2017 Mark Wade - Contact
© / Conditions for Use
---