Home - Search - Browse - Alphabetic Index: 0- 1- 2- 3- 4- 5- 6- 7- 8- 9
A- B- C- D- E- F- G- H- I- J- K- L- M- N- O- P- Q- R- S- T- U- V- W- X- Y- Z
---
Grumman LSS Project 344 Rover - 1 man
---
Part of Lunar Logistic System series Family
---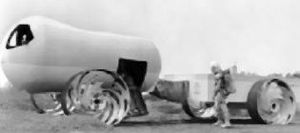 Grumman LSS Rover
Grumman LSS Project 344 Rover - 1 man
Credit: NASA

American manned lunar rover. Study 1963. The Grumman Lunar Logistics System Project 344 single-crew rover of January 1963 had 2 x two-wheeled power modules. Each wheel was 360 cm in diameter, and the rover had a range of 300 km on a 3.3 day traverse.

Status: Study 1963. Gross mass: 680 kg (1,490 lb).

The rover was designed to be launched to moon by a single Saturn IB. Possible scaling problems would occur if the design was enlarged. Navigation accuracy was 300 m.

Crew Size: 1.
---
---
Family: Lunar Rovers, Moon. Country: USA. Agency: NASA, Grumman. Bibliography: 1994.
---
---
Home - Search - Browse - Alphabetic Index: 0- 1- 2- 3- 4- 5- 6- 7- 8- 9
A- B- C- D- E- F- G- H- I- J- K- L- M- N- O- P- Q- R- S- T- U- V- W- X- Y- Z
---
© 1997-2017 Mark Wade - Contact
© / Conditions for Use
---