Home - Search - Browse - Alphabetic Index: 0- 1- 2- 3- 4- 5- 6- 7- 8- 9
A- B- C- D- E- F- G- H- I- J- K- L- M- N- O- P- Q- R- S- T- U- V- W- X- Y- Z
---
Gonets
---
Part of Strela-3 Family
---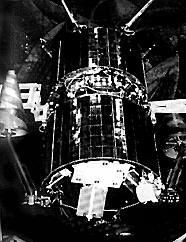 Gonets-1
Commercial version of the Strela-3 military satellite.
Credit: ESA

Russian civilian store-dump communications satellite. Study 1999. The first generation store-dump communications Gonets-D system was to have been followed by an advanced Gonets-R design equipped with satellite-to-satellite links. Communication, Store-Dump satellite built by NPO Prikladnoi Mekhaniki (NPO PM) for RKA, Russia. Launched 1992 - 2001.

Status: Study 1999. First Launch: 1992-07-13. Last Launch: 2001-12-28. Number: 8 . Gross mass: 233 kg (513 lb).

Gonets-R would have employed a larger, 950-kg spacecraft in even greater numbers (45 satellites in 5 planes of 9) and have operated at L- and Ku bands. Each satellite would have a capacity of 15 earth-space and 3 space-earth channels. On-board storage was 8 Mbytes of data, with a transmission rate of 1.2 to 64 kbit/sec. Seems to have been abandoned due to lack of commercial interest.
---
More at: Gonets.
---
Family: Civilian comsat store-dump, Communications, Medium earth orbit. Country: Russia. Agency: Reshetnev bureau. Bibliography: 105, 6536, 12510.
---
Photo Gallery
---
---
Gonets-M1
Credit: Manufacturer Image
---
---
---
Home - Search - Browse - Alphabetic Index: 0- 1- 2- 3- 4- 5- 6- 7- 8- 9
A- B- C- D- E- F- G- H- I- J- K- L- M- N- O- P- Q- R- S- T- U- V- W- X- Y- Z
---
© 1997-2017 Mark Wade - Contact
© / Conditions for Use
---