Home - Search - Browse - Alphabetic Index: 0- 1- 2- 3- 4- 5- 6- 7- 8- 9
A- B- C- D- E- F- G- H- I- J- K- L- M- N- O- P- Q- R- S- T- U- V- W- X- Y- Z
---
FY-3
---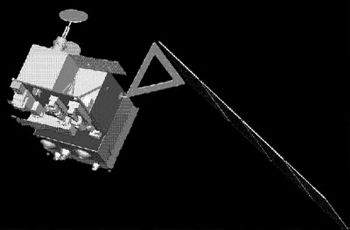 FY-3A
Credit: Manufacturer Image

Chinese new generation polar orbit weather satellite. The FY-3 was equipped with new global, all-weather, multi-spectral, three-dimensional sensors. Meteorology satellite built by SAST for National Satellite Meteorological Centre, China. Launched 2008 - 2013.

Status: Operational 2008. First Launch: 2008-05-27. Last Launch: 2013-09-23. Number: 3 . Gross mass: 2,200 kg (4,800 lb).

The new satellite, an improved version of the Feng Yun 1, had a resolution of 250 m and a mass of 2,200 kg with a design life of two years.

The draft project for the Chinese new generation polar orbit weather satellite Fengyun-3 (FY-3) was approved at a review meeting held on October 29-30 1998 in Beijing. The 8th Academy of China Aerospace Corporation, Shanghai Academy of Space Technology was responsible for the development of the satellite. In July 2000 it was indicated that China planned to launch ten advanced meteorological satellites into orbit in 2000-2010 to improve the accuracy of its weather and natural disaster forecasts. The Chinese Government had approved the plan to develop and launch the satellites at a cost of well over one billion dollars. The satellites, together with the five meteorological satellites still orbiting the earth, would allow China to form a complete meteorological satellite system. Six of these meteorological satellites would be orbited from 2002 to 2008 to offer comprehensive weather services for the 2008 Olympic Games. Among these would be FY-3A in 2004, FY-3B in 2006, and FY-3C in 2008.
---
More at: FY-3.
---
Family: Earth, Earth weathersat. Country: China. Launch Vehicles: Chang Zheng 4C. Launch Sites: Taiyuan. Bibliography: 424, 12466.
---
---
Home - Search - Browse - Alphabetic Index: 0- 1- 2- 3- 4- 5- 6- 7- 8- 9
A- B- C- D- E- F- G- H- I- J- K- L- M- N- O- P- Q- R- S- T- U- V- W- X- Y- Z
---
© 1997-2017 Mark Wade - Contact
© / Conditions for Use
---