Home - Search - Browse - Alphabetic Index: 0- 1- 2- 3- 4- 5- 6- 7- 8- 9
A- B- C- D- E- F- G- H- I- J- K- L- M- N- O- P- Q- R- S- T- U- V- W- X- Y- Z
---
Eagle X-Prize
---
Part of X-Prize
---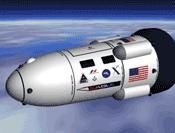 Eagle X-Prize
American manned spacecraft. Study 2004. X-Prize suborbital ballistic spacecraft concept of Vanguard Spacecraft of Bridgewater, Massachusetts.
Status: Study 2004.
Eagle was a design of Steve McGrath of Vanguard Spacecraft of Bridgewater, Massachusetts. The concept used a rocket powered vertical takeoff followed by a parachute descent to earth. The Vanguard Series Launch Vehicle consisted of two booster stages and a spacecraft. Alternate booster stage designs would use either utilize solid or liquid propellants. The structure of the Eagle was to consist of carbon fiber composite materials with honeycombed core for maximum strength and minimum weight.
---
---
Family
:
America's Space Prize
,
Manned spacecraft
,
Suborbital
.
Country
:
USA
.
Agency
:
Vanguard Spacecraft
.
---
---
Fall 2003 -
.
Eagle X-Prize subscale demonstrator. - . Nation: USA. Program: X-Prize. Spacecraft Bus: X-Prize. Spacecraft: Eagle X-Prize.

American Astronautics completed a sub-scale LOX/RP-1-fueled technology demonstrator vehicle for their American Eagle I design. The test bed vehicle was capable of carrying an 18 kg payload to an altitude of 120 km. American Astronautics expected to conduct flights with the technology demonstrator in early 2004.
---
---
Back to top of page
---
Home - Search - Browse - Alphabetic Index: 0- 1- 2- 3- 4- 5- 6- 7- 8- 9
A- B- C- D- E- F- G- H- I- J- K- L- M- N- O- P- Q- R- S- T- U- V- W- X- Y- Z
---
© 1997-2019 Mark Wade - Contact
© / Conditions for Use
---