Home - Search - Browse - Alphabetic Index: 0- 1- 2- 3- 4- 5- 6- 7- 8- 9
A- B- C- D- E- F- G- H- I- J- K- L- M- N- O- P- Q- R- S- T- U- V- W- X- Y- Z
---
CUSat
CLICK HERE FOR CURRENT AND MORE COMPLETE INFORMATION
ON THIS TOPIC AT OUR PARTNER SITE
---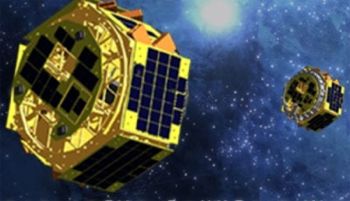 CUSat
Credit: Manufacturer Image

Cornell University satellite; carried a differential GPS navigation system and pulsed plasma thrusters. The defunct-before-launch CUSAT 2/Top satellite remained attached to the Falcon 9 second stage. CUSAT (formerly CUSAT 1/Bottom) was launched attached to CUSAT 2 and separated from it after orbit insertion. Technology satellite built by Cornell University Engineering for Cornell University, USA. Launched 2013.

Status: Operational 2013. First Launch: 2013-09-29. Last Launch: 2013-09-29. Number: 1 . Gross mass: 23 kg (50 lb). Apogee: 1,426 km (886 mi).
---
More at: CUSat.
---
Family: Technology. Country: USA. Launch Vehicles: Falcon 9. Launch Sites: Vandenberg SLC4E.
---
---
Home - Search - Browse - Alphabetic Index: 0- 1- 2- 3- 4- 5- 6- 7- 8- 9
A- B- C- D- E- F- G- H- I- J- K- L- M- N- O- P- Q- R- S- T- U- V- W- X- Y- Z
---
© 1997-2017 Mark Wade - Contact
© / Conditions for Use
---