Home - Search - Browse - Alphabetic Index: 0- 1- 2- 3- 4- 5- 6- 7- 8- 9
A- B- C- D- E- F- G- H- I- J- K- L- M- N- O- P- Q- R- S- T- U- V- W- X- Y- Z
---
Columbus Man-Tended Free Flyer - MTFF
---
Part of Columbus Space Station
---
---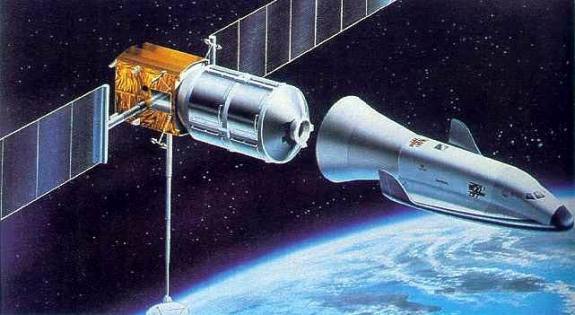 ESA Columbus MTFF
ESA Columbus Man-Tended Free Flyer - MTFF. The Hermés mini-shuttle docks with the man-tended free-flyer to retrieve microgravity experiments to Earth in this 1989 illustration.
Credit: ESA via Marcus Lindroos
---
European manned space station. Study 1986. In April 1986, Italy's Aeritalia finally proposed that the European Space Agency build a second free-flying pressurized module to be used with the Space Station.
Status: Study 1986.
The Italian initiative was intended to break the NASA-ESA deadlock. The Man-Tended Free Flying platform (MTFF) would have been used for sensitive microgravity research while satisfying European needs for an autonomous manned space platform. In 1986, the estimated costs of the MTFF were $160-180 million in addition to the existing $1.6-1.8 billion Columbus space segment. The Americans grudgingly approved the MTFF although it would require additional communications, docking facilities, data processing and other Station resources. The Hermes mini-shuttle would dock with the man-tended free-flyer to retrieve microgravity experiments.
The MTFF, Columbus Attached Pressurized Module, Ariane-5 rocket and (somewhat surprisingly-) Hermes were all approved in November 1987. The entire Columbus package (Attached Pressurized Module, Man Tended Free-Flying platform, plus an unmanned polar remote sensing platform) was expected to cost $3.56 billion including launch and utilization. The Columbus budget was trimmed slightly by canceling the smaller $145-million Eureca B platform. Hermes and Columbus would receive final approval in 1991 after the 3-year Phase 1 definition phase. By this time, the cost of German unification had forced Germany to demand a 15-20% reduction in ESA 1990-2000 spending and it was becoming increasingly clear either the German-led MTFF, Italian-led Columbus APM or French Hermes projects would have to be cancelled. In 1991 the MTFF was postponed from 1999 to sometime after the turn of the century as ESA devoted all its resources to the Columbus Attached Pressurized Module.
Article by Marcus Lindroos
---
---
Family
:
European Space Stations
,
Space station
.
Country
:
Europe
.
Agency
:
ESA
,
Alenia
.
---
Photo Gallery
---
---
ESA Columbus MTFF
ESA Columbus Man-Tended Free Flyer - MTFF
Credit: ESA via Marcus Lindroos
---
---
ESA MTFF 1985
ESA Columbus Man-Tended Free Flyer - MTFF. The Man-Tended Free Flying platform (MTFF) depicted here would have been used for sensitive microgravity research while satisfying European needs for an autonomous manned space platform.
Credit: ESA via Marcus Lindroos
---
---
---
Back to top of page
---
Home - Search - Browse - Alphabetic Index: 0- 1- 2- 3- 4- 5- 6- 7- 8- 9
A- B- C- D- E- F- G- H- I- J- K- L- M- N- O- P- Q- R- S- T- U- V- W- X- Y- Z
---
© 1997-2019 Mark Wade - Contact
© / Conditions for Use
---