Home - Search - Browse - Alphabetic Index: 0- 1- 2- 3- 4- 5- 6- 7- 8- 9
A- B- C- D- E- F- G- H- I- J- K- L- M- N- O- P- Q- R- S- T- U- V- W- X- Y- Z
---
Columbus Space Station
---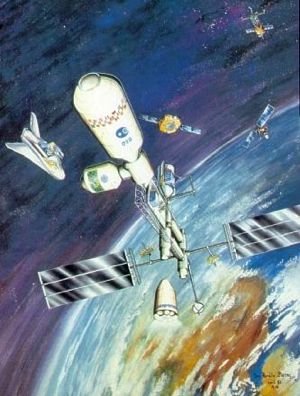 ESA Station 1982
ESA. European space station (Aerospatiale concept, 1982).
Credit: ESA via Marcus Lindroos
European manned space station. Study 1984. The European Space Agency Columbus module began as an independent European space station but would up as an unflown module of the International Space Station.
Status: Study 1984.
Its origins were as a man-tended free-flying space station consisting of a pressurized module based on Spacelab, payload carriers based on Eureca platform technologies, and a new Resource Module that would provide power, communications, guidance, navigation and control to the other modules.
The European Space Agency (ESA) became an increasingly important factor in space during the late 1970s and early 80s. Europe's 'Ariane' launch vehicle was a huge commercial success and ESA also built the 'Spacelab' pressurized laboratory module for the American Space Shuttle program. Spacelab contractors such as MBB and Alitalia started to examine possible follow-on manned projects, including independent ESA space stations. German and Italian companies had already proposed an integrated European manned spaceflight program named 'Columbus' when President Reagan invited other countries to join the US-led Space Station program.
The option initially favored by the Europeans would have been capable of undocking from the US Space Station complex to perform sensitive microgravity experiments in an unmanned mode. The total estimated cost was 1750 million European Currency Units and Germany was willing to fund up to 50% with Italy providing 25%. The Europeans were also looking at space transportation elements to complement the Eureca platform and Columbus space station. Candidates included a winged reusable booster rocket for the Ariane-5 and a multipurpose 'space tug' for servicing satellites as well as transporting cargo to Columbus.
Article by Marcus Lindroos
---
---
Subtopics
---
| | |
| --- | --- |
| | Columbus Attached Pressurized Module European manned space station module. Study 1985. The European Space Agency formally joined the American Space Station project in May 1985, but the negotiations between ESA and NASA were often difficult. |
---
| | |
| --- | --- |
| | Columbus Man-Tended Free Flyer - MTFF European manned space station. Study 1986. In April 1986, Italy's Aeritalia finally proposed that the European Space Agency build a second free-flying pressurized module to be used with the Space Station. |
---
Family
:
European Space Stations
,
Space station
.
Country
:
Europe
.
Agency
:
ESA
.
---
Photo Gallery
---
---
ESA Station 84
The Europeans were also looking at space transportation elements to complement the Eureca platform (top right) and Columbus space station (top left). Candidates included a winged reusable booster rocket for the Ariane-5 (bottom left) and a multipurpose "space tug" (centre) for servicing satellites as well as transporting cargo to Columbus.
Credit: ESA via Marcus Lindroos
---
---
ESA Columbus 1984
ESA Station.
Credit: ESA via Marcus Lindroos
---
---
---
Back to top of page
---
Home - Search - Browse - Alphabetic Index: 0- 1- 2- 3- 4- 5- 6- 7- 8- 9
A- B- C- D- E- F- G- H- I- J- K- L- M- N- O- P- Q- R- S- T- U- V- W- X- Y- Z
---
© 1997-2019 Mark Wade - Contact
© / Conditions for Use
---