Encyclopedia Astronautica
Home - Search - Browse - Alphabetic Index: 0- 1- 2- 3- 4- 5- 6- 7- 8- 9
A- B- C- D- E- F- G- H- I- J- K- L- M- N- O- P- Q- R- S- T- U- V- W- X- Y- Z
---
---
C/NOFS
---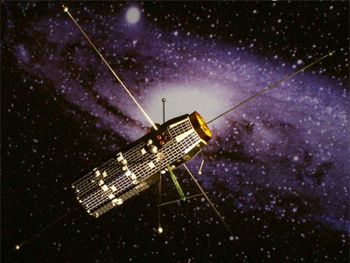 C/NOFS
Credit: Manufacturer Image

American earth seismology satellite. The C/NOFS (Communication/Navigation Outage Forecasting System) satellite flew the US Defense Department's Space Test Program P00-3 space weather forecasting mission.

Status: Operational 2008. First Launch: 2008-04-16. Last Launch: 2008-04-16. Number: 1 .

NASA NSSDC Master Catalog Description

The Communications/Navigation Outage Forecasting System (C/NOFS) is a prototype operational system designed to monitor and forecast ionospheric scintillation in real-time and on a global scale. In the space-borne segment, C/NOFS will fly a system of proven sensors on-board a three-axis stabilized satellite to detect ionospheric scintillation. This will provide data for global, real-time specification, and 4 hour forecast capability.

C/NOFS is a joint effort between the DOD Space Test Program and AFRL (Air Force Research Laboratory). The space test program provides the spacecraft, launch vehicle, launch and first year on-orbit operations. AFRL is responsible for the multi-instrument payload, payload integration and test, model development, data center operations, and product generation and distribution.

The C/NOFS payload consists of six instruments: the Planar Langmuir Probe (PLP) for measurements of plasma density, the Vector Electric Field Instrument (VEFI) for measurements of vector electric and magnetic fields, the Ion Velocity Meter (IVM) for measurements of plasma drift velocities and ion temperatures, the Neutral Wind Meter (NWM) for measurements of neutral winds, the C/NOFS Occultation Receiver for Ionospheric Sensing and Specification (CORISS) for remote sensing of the electron density vertical profile, the Coherent Electromagnetic Radio Tomography (CERTO) for measurements of ionospheric scintillation parameters. Both the Neutral Wind Meter (NWM) and the Ion Velocity Meter (IVM) are provided by NASA as the CINDI (Coupled Ion-Neutral Dynamics Investigation) payload, which was selected as an Explorer Mission of Opportunity.

The goal of C/NOFS is to forecast scintillation three to six hours before its onset such that system operators will be able to plan in ways that will optimize mission command and control.

The spacecraft will be launched into an orbit with perigee/apogee of 400/700 km, and an inclination of 13 degrees. Launch is currently planned for early 2006.

Information about C/NOFS can be found at Air Force Research Laboratory page: http://www.kirtland.af.mil/shared/media/document/AFD-070404-094.pdf.

and the NASA page: http://www.nasa.gov/mission_pages/cindi/

The CINDI homepage is at: http://cindispace.utdallas.edu/

Family: Earth, Earth seismology sat. Country: USA. Launch Vehicles: Pegasus, Pegasus XL. Launch Sites: Cape Canaveral. More at: 6399, 12161.
---
---
2008 April 16 - . 17:02 GMT - . Launch Site: Kwajalein. Launch Pad: RW06/24. Launch Platform: L-1011. LV Family: Pegasus. Launch Vehicle: Pegasus XL.
C/NOFS - . Mass: 395 kg (870 lb). Nation: USA. Agency: McLean. Class: Earth. Type: Seismology satellite. Spacecraft Bus: C/NOFS. Spacecraft: C/NOFS. USAF Sat Cat: 32765 . COSPAR: 2008-017A. Apogee: 852 km (529 mi). Perigee: 405 km (251 mi). Inclination: 13.0000 deg. Period: 97.30 min.

The C/NOFS (Communication/Navigation Outage Forecasting System) satellite flew the US Defence Department's Space Test Program P00-3 space weather forecasting mission. The L-1011 launch aircraft staged from Kwajalein atoll to a release point for the Pegasus booster somewhere over the Pacific at 10.5229 N 167.7562 E. The research satellite carring ionospheric instruments, including Aerospace Corporation's CORISS receiver which used GPS signals to determine electron densities in the ionosphere, and the Naval Research Laboratory's CERTO ionospheric radio beacon. The spacecraft was built by General Dynamics C4 Systems (former Spectrum Astro) and was managed by DoD-STP and the Air Force Research Lab. The objective was to provide data that would allow better forecasts of ionospheric scintillation which causes problems with communications and GPS signals. The satellite deployed six 10-meter booms after release from the final booster stage. Air dropped in Kwajalein Drop Zone.
---
---
Home - Search - Browse - Alphabetic Index: 0- 1- 2- 3- 4- 5- 6- 7- 8- 9
A- B- C- D- E- F- G- H- I- J- K- L- M- N- O- P- Q- R- S- T- U- V- W- X- Y- Z
---
© 1997-2016 Mark Wade - Contact
© / Conditions for Use
---