Home - Search - Browse - Alphabetic Index: 0- 1- 2- 3- 4- 5- 6- 7- 8- 9
A- B- C- D- E- F- G- H- I- J- K- L- M- N- O- P- Q- R- S- T- U- V- W- X- Y- Z
---
Black Armadillo
---
Part of X-Prize Family
---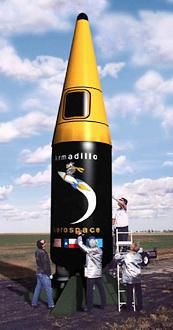 Black Armadillo

American manned spacecraft. Study 2004. X-Prize suborbital ballistic spacecraft concept of Armadillo Aerospace, Mesquite, Texas. Reached the stage of engineering tests by 2003.

Status: Study 2004. Gross mass: 8,000 kg (17,600 lb).

Black Armadillo was a concept of John Carmack of Armadillo Aerospace, Mesquite, Texas. The vehicle used rocket-powered vertical takeoff and a parachute descent to a touchdown on land cushioned by a crushable nose cone. Armadillo Aerospace was incorporated on January 1, 2001, with the objective of winning the X-Prize. The Black Armadillo's propulsion system consisted of four pressure-fed, hydrogen peroxide, monopropellant system rocket engines fed from a single tank with a capacity of 6,055 liters. Testing of the crushable nose cone landing system was performed on a full-scale test vehicle dropped from 6 km altitude.

After SpaceShipOne had won the X-Prize, Armadillo Aerospace continued development of suborbital, piloted spacecraft. The company built a subscale demonstrator of a proposed one-person suborbital spacecraft, a conical vehicle three meters tall and powered by a LOX/ethanol engine. Armadillo Aerospace conducted an unmanned low-level test flight of the demonstrator at the X Prize Cup Exhibition in Las Cruces, New Mexico, in October 2005. A full-scale vehicle may be ready for suborbital spaceflight from White Sands, New Mexico as early as 2006. Armadillo's founder, John Carmack, had invested $2.5 million into the venture between 2000 and 2005.
---
---
Family: America's Space Prize, Manned spacecraft, Suborbital. Country: USA. Agency: Armadillo Aerospace.
---
---
2002 September 28 - .
---
2002 November 16 - .
---
2003 February 16 - .
---
2003 March 11 - .
---
2003 March 15 - .
---
2003 July 5 - .
---
April 2004 - .
---
---
Home - Search - Browse - Alphabetic Index: 0- 1- 2- 3- 4- 5- 6- 7- 8- 9
A- B- C- D- E- F- G- H- I- J- K- L- M- N- O- P- Q- R- S- T- U- V- W- X- Y- Z
---
© 1997-2017 Mark Wade - Contact
© / Conditions for Use
---