Home - Search - Browse - Alphabetic Index: 0- 1- 2- 3- 4- 5- 6- 7- 8- 9
A- B- C- D- E- F- G- H- I- J- K- L- M- N- O- P- Q- R- S- T- U- V- W- X- Y- Z
---
Bikle, Paul F
---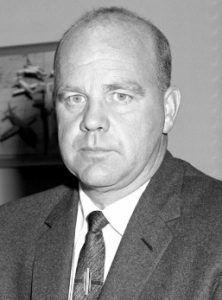 Bikle
Credit: NASA

American engineer. Worked at Wright Field and Edwards AFB from 1940. Director NASA Edwards 1959-1971. Oversaw projects from the XB-43 through the X-15 to the NASA lifting bodies.

Born: 1916-06-05. Died: 1991-01-20.

Paul F. Bikle earned a B.S. in aeronautical engineering from the University of Detroit in 1939 and was employed by Taylorcraft Aviation Corp. for a year before working for the Air Corps and Air Force as a civilian from 1940 to 1959, both at Wright Field, Ohio, and at the Flight Test Center at Edwards Air Force Base, California. At Edwards, he rose to the position of technical director of the center. In 1959 he became director of NASA's Flight Research Center, also at Edwards, a position he held until his retirement in 1971. Both with the Air Force and with NASA, he was associated with many major aeronautical research programs from the XB-43, the first jet bomber, through the successful rocket- powered X-15, to wingless lifting bodies that lead to the Space Shuttle and reusable boosters.
---
---
Country: USA. Agency: NASA. Bibliography: 535, 5167.
---
---
1916 June 5 - .
---
1991 January 20 - .
---
---
Home - Search - Browse - Alphabetic Index: 0- 1- 2- 3- 4- 5- 6- 7- 8- 9
A- B- C- D- E- F- G- H- I- J- K- L- M- N- O- P- Q- R- S- T- U- V- W- X- Y- Z
---
© 1997-2017 Mark Wade - Contact
© / Conditions for Use
---