Home - Search - Browse - Alphabetic Index: 0- 1- 2- 3- 4- 5- 6- 7- 8- 9
A- B- C- D- E- F- G- H- I- J- K- L- M- N- O- P- Q- R- S- T- U- V- W- X- Y- Z
---
Apollo SMLL
---
Part of Apollo CSM
---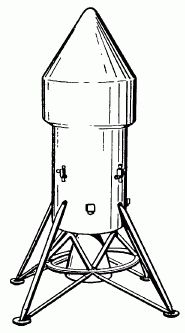 Apollo SMLL
American lunar logistics spacecraft. Study 1966. North American Aviation (NAA) proposed use of the SM as a lunar logistics vehicle (LLV) in 1966. The configuration, simply stated, put a landing gear on the SM.
AKA: SM Logistic Lander. Status: Study 1966.
It was proposed for use in an unmanned, direct landing mode. The system required the addition of remote guidance and control and a suitable throttling engine.
So-called "conversions" of the present SM engine really inferred a new engine development, probably of the same magnitude as that required for the LM descent engine. It was considered wiser by NASA's Bellcomm consultants to develop a new pump-fed engine or use a converted Agena engine and take advantage of the superior performance available.
Advantages of the SM Lander were said to be simple mission configuration; straightforward development; and substantial payload capacity at an early operational date (5,000 kg with an Apollo Block 1 SM; 7500 kg with a service module extended in length by 107 cm). Technical challenges included designing the landing gear and throttling engine provisions, and remote guidance and control for lunar landing.
---
---
Family
:
Lunar Landers
,
Lunar logistics spacecraft
,
Moon
.
Country
:
USA
.
Agency
:
NASA
,
North American
.
Bibliography
:
1993
.
---
---
Back to top of page
---
Home - Search - Browse - Alphabetic Index: 0- 1- 2- 3- 4- 5- 6- 7- 8- 9
A- B- C- D- E- F- G- H- I- J- K- L- M- N- O- P- Q- R- S- T- U- V- W- X- Y- Z
---
© 1997-2019 Mark Wade - Contact
© / Conditions for Use
---