Home - Search - Browse - Alphabetic Index: 0- 1- 2- 3- 4- 5- 6- 7- 8- 9
A- B- C- D- E- F- G- H- I- J- K- L- M- N- O- P- Q- R- S- T- U- V- W- X- Y- Z
---
Apollo CMLS
---
Part of Apollo CSM
---
---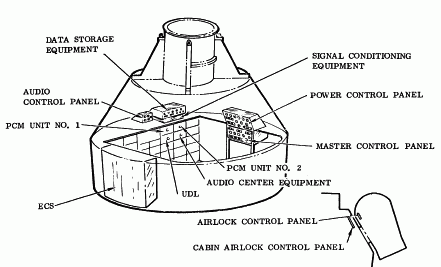 Apollo CMLS
---
American manned lunar habitat. Study 1966.
AKA: CM Lunar Shelter. Status: Study 1966.
In 1966 North American concluded that the Apollo Command Module (CM) could be converted into a lunar shelter by removal of the heat shield, interior modification, addition of a fuel cell power supply, storage facilities for fuel cell reactants and life support expendables, and possibly some type of airlock. When compared to an LM derivative shelter, the greatest advantage of the CM was the 36% greater available volume-- 8.7 m3 compared to 6.4 m3.
Quiescent storage capability modifications would be similar to those required for lunar orbit CM modes, possibly with the exception of larger RTG requirements for thermal control.
---
---
Family
:
Lunar Habitats
,
Moon
.
Country
:
USA
.
Agency
:
NASA
,
North American
.
Bibliography
:
1993
.
---
---
Back to top of page
---
Home - Search - Browse - Alphabetic Index: 0- 1- 2- 3- 4- 5- 6- 7- 8- 9
A- B- C- D- E- F- G- H- I- J- K- L- M- N- O- P- Q- R- S- T- U- V- W- X- Y- Z
---
© 1997-2019 Mark Wade - Contact
© / Conditions for Use
---