Home - Search - Browse - Alphabetic Index: 0- 1- 2- 3- 4- 5- 6- 7- 8- 9
A- B- C- D- E- F- G- H- I- J- K- L- M- N- O- P- Q- R- S- T- U- V- W- X- Y- Z
---
Alphabus
CLICK HERE FOR CURRENT AND MORE COMPLETE INFORMATION
ON THIS TOPIC AT OUR PARTNER SITE
---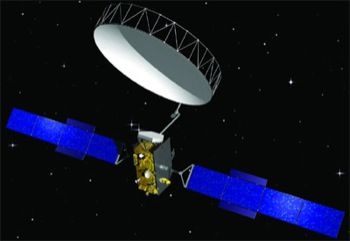 Alphasat
Credit: Manufacturer Image

Testbed communications satellite, a joint project between the European Space Agency and Inmarsat.

AKA: Alphasat. Status: Operational 2013. First Launch: 2013-07-25. Last Launch: 2013-07-25. Number: 1 .

Demonstrated a laser communications system and radio communications links in Q and V band; carried an operational extended L-band payloadto supplement Inmarsat's satellite broadband capacity. First flight of the new Astrium/Lampoldshausen 500N EAM (European Apogee Motor), a MON/MMH system with an Isp of about 325s. Dry mass iaround 3500 kg.
---
More at: Alphabus.
---
Subtopics
---
---
Family: Communications. Country: USA. Launch Vehicles: Ariane 5, Ariane 5ECA. Launch Sites: Kourou ELA3. Bibliography: 6339, 12043.
---
Photo Gallery
---
---
Alphabus
Credit: Manufacturer Image
---
---
---
Home - Search - Browse - Alphabetic Index: 0- 1- 2- 3- 4- 5- 6- 7- 8- 9
A- B- C- D- E- F- G- H- I- J- K- L- M- N- O- P- Q- R- S- T- U- V- W- X- Y- Z
---
© 1997-2017 Mark Wade - Contact
© / Conditions for Use
---