Home - Search - Browse - Alphabetic Index: 0- 1- 2- 3- 4- 5- 6- 7- 8- 9
A- B- C- D- E- F- G- H- I- J- K- L- M- N- O- P- Q- R- S- T- U- V- W- X- Y- Z
---
15D206
---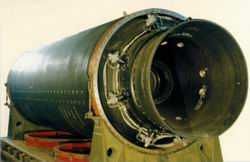 15D206
Credit: Yuzhnoye
Yuzhnoye solid rocket engine. RT-23 early models stage I. Out of Production. The case-bound T9-BK composite solid propellant charge had a star shape channel. The case was of organic fiber-wound plastic material.
Status: Out of Production. Date: 1976-85. Thrust: 2,353.00 kN (528,975 lbf). Height: 8.40 m (27.50 ft). Diameter: 2.40 m (7.80 ft).
The central stationary control nozzle partially intruded into the combustion chamber. Steering was accomplished by fluid injection into the hot chamber gas into the supersonic nozzle section via eight stem valves. The thrust vector control system ensured control in all three axes (pitch, roll, yaw). The motor had an advantage over engines with other types of thrust vector control systems with limited aft bay volume.
Thrust (sl): 220,000 kgf.
---
---
Country
:
Ukraine
.
Launch Vehicles
:
RT-23
.
Propellants
:
Solid
.
Agency
:
Yuzhnoye
.
Bibliography
:
4477
.
---
---
Back to top of page
---
Home - Search - Browse - Alphabetic Index: 0- 1- 2- 3- 4- 5- 6- 7- 8- 9
A- B- C- D- E- F- G- H- I- J- K- L- M- N- O- P- Q- R- S- T- U- V- W- X- Y- Z
---
© 1997-2019 Mark Wade - Contact
© / Conditions for Use
---