Home - Search - Browse - Alphabetic Index: 0- 1- 2- 3- 4- 5- 6- 7- 8- 9
A- B- C- D- E- F- G- H- I- J- K- L- M- N- O- P- Q- R- S- T- U- V- W- X- Y- Z
---
Weinberger, Caspar W
---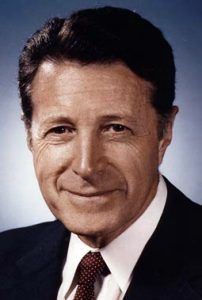 Weinberger
Credit: NASA

American manager, led OMB 1970-1976, shaped shuttle design by limiting its budget. As Secretary of Defense for Reagan 1981-1987, doled out large military increases, including new ICBMs, Star Wars, military satellites.

Born: 1917-08-18. Died: 2006-03-28.

Caspar W. Weinberger , long-time Republican government official, was a senior member of the Nixon, Ford, and Reagan administrations. For Nixon he was deputy director (1970-1972) and director (1972-1976) of the Office of Management and Budget. In this capacity had a leading role in shaping the direction of NASA's major effort of the 1970s, the development of a reusable Space Shuttle. For Reagan he served as Secretary of Defense, where he also oversaw the use of the Shuttle in the early 1980s for the launching of classified Department of Defense payloads into orbit.
---
---
Country: USA. Bibliography: 535, 6188.
---
---
Home - Search - Browse - Alphabetic Index: 0- 1- 2- 3- 4- 5- 6- 7- 8- 9
A- B- C- D- E- F- G- H- I- J- K- L- M- N- O- P- Q- R- S- T- U- V- W- X- Y- Z
---
© 1997-2017 Mark Wade - Contact
© / Conditions for Use
---