Home - Search - Browse - Alphabetic Index: 0- 1- 2- 3- 4- 5- 6- 7- 8- 9
A- B- C- D- E- F- G- H- I- J- K- L- M- N- O- P- Q- R- S- T- U- V- W- X- Y- Z
---
Walker, Charles
---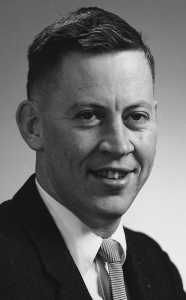 Walker Charles
Credit: via Richard Martin

American engineer. Part of Atlas management team.

Born: 1925-05-01. Birth Place: Gunnison, Colorado.

Walker, son of a college teacher, began working for Consolidated Aircraft as the result of corporate fellowship program even before graduating from the University of Colorado in 1946. After a brief period at Convair San Diego, he worked at the company's Fort Worth facility until 1953 as a structural test engineer. He then returned to San Diego, and began working on the Atlas program. He quickly became part of the technical management team, serving as head of Test Planning, Manager of Program Control, Manager of Systems and Procedures, and Manager of Proposal Planning. He moved to General Dynamic's Quincy shipyard in 1965 to work on, and eventually the lead, the construction of three tracking ships for the Apollo moon landing program. In 1971 he moved on to management positions at Ingalls Shipbuilding in Pascagoula, Mississippi, from where he retired in 1990.
---
---
Country: USA. Bibliography: 4460, 4475.
---
---
1925 May 1 - .
Birth of Charles Walker - . Nation: USA. Related Persons: Walker, Charles. American engineer. Part of Atlas management team..
---
---
Home - Search - Browse - Alphabetic Index: 0- 1- 2- 3- 4- 5- 6- 7- 8- 9
A- B- C- D- E- F- G- H- I- J- K- L- M- N- O- P- Q- R- S- T- U- V- W- X- Y- Z
---
© 1997-2017 Mark Wade - Contact
© / Conditions for Use
---