Home - Search - Browse - Alphabetic Index: 0- 1- 2- 3- 4- 5- 6- 7- 8- 9
A- B- C- D- E- F- G- H- I- J- K- L- M- N- O- P- Q- R- S- T- U- V- W- X- Y- Z
---
Transhab Module
---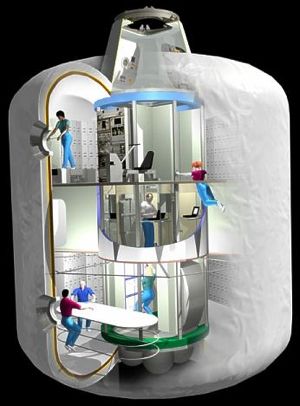 Transhab Module
NASA's Johnson Space Center proposed a much larger and lighter inflatable 8-meter diameter "Transhab" module that also could be converted into crew quarters for future manned missions to the Moon and Mars.
Credit: NASA via Marcus Lindroos
American manned space station module. Cancelled 1998. Cost overruns soon forced NASA to consider other options for the International Space Station's habitation module. The space agency originally intended to use the same 8.
Status: Cancelled 1998.
2-meter long habitation module as the final 1991 Space Station Freedom design. In late 1998, NASA's Johnson Space Center proposed a much larger and lighter inflatable 8-meter diameter 'Transhab' module that also could be converted into crew quarters for future manned missions to the Moon and Mars. It was also possible that the module could be built and paid for by private industry and leased to NASA, although the exact configuration wasn't clear. Transhab and the 8.2-meter module appeared to be equally expensive ($100 million in 1998) and NASA had not made a final decision.
Article by Marcus Lindroos
---
---
Family
:
Space station module
,
USA - Space Stations
.
Country
:
USA
.
Spacecraft
:
ISS
.
Launch Vehicles
:
Space Shuttle
.
Agency
:
NASA Houston
.
---
---
Back to top of page
---
Home - Search - Browse - Alphabetic Index: 0- 1- 2- 3- 4- 5- 6- 7- 8- 9
A- B- C- D- E- F- G- H- I- J- K- L- M- N- O- P- Q- R- S- T- U- V- W- X- Y- Z
---
© 1997-2019 Mark Wade - Contact
© / Conditions for Use
---