Home - Search - Browse - Alphabetic Index: 0- 1- 2- 3- 4- 5- 6- 7- 8- 9
A- B- C- D- E- F- G- H- I- J- K- L- M- N- O- P- Q- R- S- T- U- V- W- X- Y- Z
---
The Space Tourist
---
Part of X-Prize
---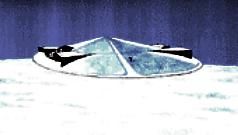 Space Tourist
American manned spaceplane. Study 2004. X-Prize suborbital flying saucer concept of Discraft Corporation of Portland, Oregon.
Status: Study 2004. Span: 30.00 m (98.00 ft).
The Space Tourist was a concept of Discraft Corporation of Portland, Oregon, developed by a team led by John Bloomer. The flying saucer would takeoff and land horizontally from conventional runways. John Bloomer was an aerospace engineer with more than 60 patents on disc-platform aircraft. Bloomer's Ship utilized "Blastwave" Pulsejets. The X Prize design was a 30-m diameter, suborbital, hypersonic wave rider aerospace craft using all-flight-regime laminar flow through use of suction over the entire upper surface of the vehicle; massless 'jet-flap' controls achieved by blowing suction air through exhausts; and all flight regime, natural positive stability. Take-off would be at 100 kph with a 50 m ground roll, followed by climb with gradual air-breathing acceleration at fixed angles according to a fixed program, leading to exit of the atmosphere at Mach 10, followed by an unpowered ballistic arc to 120 km altitude. Return to earth was a simple reverse sequence of the take-off profile. The spacecraft would spend five minutes in weightlessness above 30 km altitude, covering 775 km distance in the process.
---
---
Family
:
America's Space Prize
,
Spaceplane
,
Suborbital
.
Country
:
USA
.
Agency
:
Discraft Corporation
.
---
---
Back to top of page
---
Home - Search - Browse - Alphabetic Index: 0- 1- 2- 3- 4- 5- 6- 7- 8- 9
A- B- C- D- E- F- G- H- I- J- K- L- M- N- O- P- Q- R- S- T- U- V- W- X- Y- Z
---
© 1997-2019 Mark Wade - Contact
© / Conditions for Use
---