Home - Search - Browse - Alphabetic Index: 0- 1- 2- 3- 4- 5- 6- 7- 8- 9
A- B- C- D- E- F- G- H- I- J- K- L- M- N- O- P- Q- R- S- T- U- V- W- X- Y- Z
---
Standley, Lloyd William
---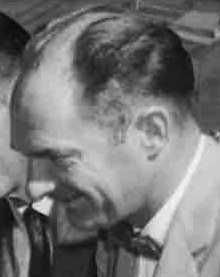 Standley
Credit: via Richard Martin
American engineer. Chief of Mechanical Design for the Atlas.
Born: 1912-01-28. Died: 1998-03-22. Birth Place: Los Angeles, California.
Standley, son of a Los Angeles cement finisher, attended several southern California colleges, then began working for Consolidated Aircraft in 1935. He specialized in aircraft hydraulics, and landing gear retraction systems. In 1946-1947 he was Assistant Project Engineer for the experimental MX-774 missile, leading design and construction of the autopilot, electrical, hydraulic and pneumatic systems. He worked at the company's Pomona plant on the Terrier missile program from 1948-1955 before returning to San Diego to work again on the Atlas. There he led design of the very successful Atlas launch and release system, the rocket's pressurization and propellant utilization systems, the hydraulics, and nose cone / booster jettison systems. Standley continued his work on the Atlas space launch versions, eventually becoming Chief of Mechanical Design. He retired in 1971.
---
---
Country
:
USA
.
Bibliography
:
4460
,
4475
.
---
---
1912 January 28 -
.
---
1998 March 22 -
.
---
---
Back to top of page
---
Home - Search - Browse - Alphabetic Index: 0- 1- 2- 3- 4- 5- 6- 7- 8- 9
A- B- C- D- E- F- G- H- I- J- K- L- M- N- O- P- Q- R- S- T- U- V- W- X- Y- Z
---
© 1997-2019 Mark Wade - Contact
© / Conditions for Use
---