Home - Search - Browse - Alphabetic Index: 0- 1- 2- 3- 4- 5- 6- 7- 8- 9
A- B- C- D- E- F- G- H- I- J- K- L- M- N- O- P- Q- R- S- T- U- V- W- X- Y- Z
---
Space Station Designs - 1982
---
---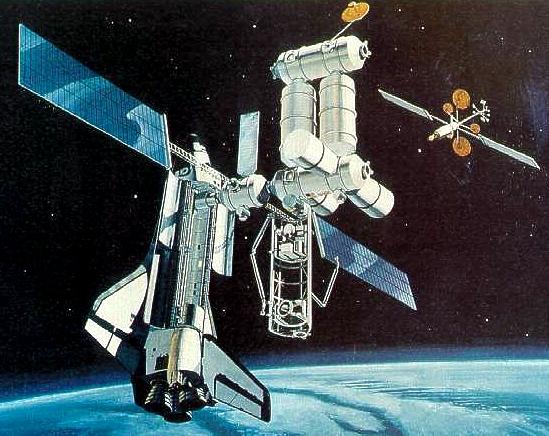 Space Station - 1982
Early 1980s Space Station Study (Rockwell). Large space station proposal by Rockwell. Note satellite servicing facility with extended robotic arms (centre). Unmanned space platform (right) is visible in background.
Credit: NASA via Marcus Lindroos
---
American manned space station. Study 1982. NASA regarded a permanently manned space station as the next 'logical step' in manned spaceflight after the Space Shuttle entered service in April 1981.
Status: Study 1982.
The agency formed a Space Station Task Force in May 1982 to study possible user requirements. In August 1992, NASA awarded eight $1-million study contracts to Boeing, McDonnell-Douglas, TRW, Rockwell, Grumman, General Dynamics/Convair and Martin Marietta. The contractors reported back in March 1983.....
The designs submitted were as follows:
Convair - The General Dynamics/Convair space station concept was intended as a 'spacedock' for assembling and servicing large spacecraft in low Earth orbit.
Grumman - Like the other contractors, Grumman focused on space stations driven by user requirements. The initial space station could be assembled quickly and inexpensively from modules launched on the Space Shuttle. It would have a crew of three astronauts. Grumman's expanded 9-man space station for the late 1990s would also have been capable of servicing spacecraft.
Martin Marietta - The Martin Marietta space station design was developed during the company's $1-million contract in 1982-83.
McDonnell-Douglas - McDonnell-Douglas had already studied the NASA/Marshall Science and Applications Manned Space Platform in considerable detail when they received another space station definition contract in August 1982. The enlarged design was loosely based on SAMSP.
Lockheed - Lockheed's space station definition proposal from 1982-83 featured a spacecraft servicing facility and several pressurized crew modules.
Rockwell - Two space station proposals were made by Rockwell International. The initial design would consist of only a few modules. The larger space station proposal would include a satellite servicing facility with robotic arms and an unmanned space platform.
TRW - TRW further developed its earlier Science and Applications Manned Space Platform concept under the August 1982 NASA contract. The initial space station would have supported a crew of 4 astronauts. TRW's large 10-12 man space station for the year 2000 could serve as a 'space harbor' for the assembly of large spacecraft. Like the other contractors, TRW assumed the space station would grow and evolve gradually as more funding becomes available.
Article by Marcus Lindroos
---
---
Family
:
Space station
,
USA - Space Stations
.
Country
:
USA
.
Launch Vehicles
:
Proton-K
,
Space Shuttle
.
Agency
:
NASA
,
North American
,
TRW
,
Douglas
,
Boeing
,
Convair
,
Gru
.
---
Photo Gallery
---
---
Space Station - 1982
Space Station Designs - 1982
Credit: NASA via Marcus Lindroos
---
---
Grumman Station 1982
Early 1980S Space Station Studies (Grumman). Grumman's expanded 9-man space station for the late 1990s would also have been capable of servicing spacecraft.
Credit: NASA via Marcus Lindroos
---
---
Grumman Station 1982
Early 1980S Space Station Studies (Grumman). Like the other contractors, Grumman focused on space stations driven by user requirements. The initial space station could be assembled quickly and inexpensively from modules launched on the Space Shuttle. It would have a crew of three astronauts.
Credit: NASA via Marcus Lindroos
---
---
Space Station - 1982
Early 1980S Space Station Studies (Martin Marietta). This Martin Marietta space station design was developed during the company's $1-million contract in 1982-83.
Credit: NASA via Marcus Lindroos
---
---
Lockheed Station-'80
Early 1980s Space Station Study (Lockheed). Lockheed's space station definition proposal from 1982-83 featured a spacecraft servicing facility (right) and several pressurized crew modules.
Credit: NASA via Marcus Lindroos
---
---
Station Design 1986
1982 : NASA Issues Space Station Study Contracts.
Credit: NASA via Marcus Lindroos
---
---
---
Back to top of page
---
Home - Search - Browse - Alphabetic Index: 0- 1- 2- 3- 4- 5- 6- 7- 8- 9
A- B- C- D- E- F- G- H- I- J- K- L- M- N- O- P- Q- R- S- T- U- V- W- X- Y- Z
---
© 1997-2019 Mark Wade - Contact
© / Conditions for Use
---