Home - Search - Browse - Alphabetic Index: 0- 1- 2- 3- 4- 5- 6- 7- 8- 9
A- B- C- D- E- F- G- H- I- J- K- L- M- N- O- P- Q- R- S- T- U- V- W- X- Y- Z
---
Spacebus
---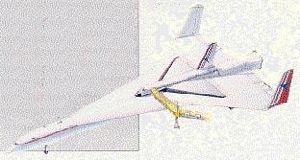 Spacebus Spaceplane
Credit: Mark Lindroos

British winged orbital launch vehicle. The Bristol Spaceplanes Spacebus was a Two Stage To Orbit (TSTO) Manned Spaceplane designed to take 50 passengers into space.

Status: Design 1990.

The design featured an airbreathing supersonic / hypersonic, delta winged first stage and a second stage powered by a liquid fuelled rocket engine. It was proposed by David Ashford of Bristol Spaceplanes Ltd. in the 1980`s / 1990's.
---
---
Subtopics
---
| | |
| --- | --- |
| | Spacecab The Two Stage To Orbit (TSTO) Concorde-sized Spacecab would deliver a payload of six persons to low Earth orbit. It would serve as a prototype for the larger 50-person Spacebus. |
---
| | |
| --- | --- |
| | Ascender British manned rocketplane. The Bristol Spaceplanes Ascender of the 1992 was a sub-orbital four-crew manned spaceplane concept proposed by David Ashford. In 2001 Ashford proposed the design as an X-Prize contender. However adequate funding was still not forthcoming for development. |
---
Family: European Rocketplanes, orbital launch vehicle, Spaceplane, Winged. Country: UK. Agency: Bristol Spaceplanes.
---
---
Home - Search - Browse - Alphabetic Index: 0- 1- 2- 3- 4- 5- 6- 7- 8- 9
A- B- C- D- E- F- G- H- I- J- K- L- M- N- O- P- Q- R- S- T- U- V- W- X- Y- Z
---
© 1997-2017 Mark Wade - Contact
© / Conditions for Use
---