Home - Search - Browse - Alphabetic Index: 0- 1- 2- 3- 4- 5- 6- 7- 8- 9
A- B- C- D- E- F- G- H- I- J- K- L- M- N- O- P- Q- R- S- T- U- V- W- X- Y- Z
---
Solaris X
---
Part of X-Prize
---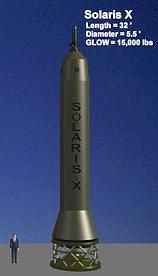 Solaris X
American manned spacecraft. Study 2004. X-Prize suborbital ballistic spacecraft concept of Interorbital Systems of Mojave, California.
Status: Study 2004.
Solaris X was a design of Roderick and Randa Milliron of Interorbital Systems (IOS) of Mojave, California. The concept used a rocket powered vertical takeoff from water in the territorial waters of Tonga, followed by a parachute descent to a splashdown at sea. IOS had been founded in 1996, with the ultimate objective of development of its Neptune-Solaris Orbital Spaceliner, a two-stage manned orbital launch vehicle. The orbiter stage in this configuration, the Solaris X rocket plane, was the company's X Prize entry. Wally Funk, one of the 'Mercury 13' female astronauts, was announced as the pilot of the Solaris X.
---
---
Family
:
America's Space Prize
,
Manned spacecraft
,
Suborbital
.
Country
:
USA
.
Agency
:
Interorbital Systems
.
---
---
Back to top of page
---
Home - Search - Browse - Alphabetic Index: 0- 1- 2- 3- 4- 5- 6- 7- 8- 9
A- B- C- D- E- F- G- H- I- J- K- L- M- N- O- P- Q- R- S- T- U- V- W- X- Y- Z
---
© 1997-2019 Mark Wade - Contact
© / Conditions for Use
---