Home - Search - Browse - Alphabetic Index: 0- 1- 2- 3- 4- 5- 6- 7- 8- 9
A- B- C- D- E- F- G- H- I- J- K- L- M- N- O- P- Q- R- S- T- U- V- W- X- Y- Z
---
Shtil-3A
---
Part of R-29 Family
---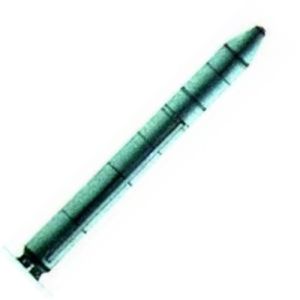 Shtil-3A
Credit: © Mark Wade

Russian intercontinental ballistic orbital launch vehicle. Proposed four-stage air-launched orbital launch vehicle based on R-29RM SLBM. Ignition mass 46 metric tons.

AKA: Aerokosmos;RSM-54;SS-N-23. Status: Out of production. Payload: 950 kg (2,090 lb). Gross mass: 46,000 kg (101,000 lb). Apogee: 200 km (120 mi).

LEO Payload: 950 kg (2,090 lb) to a 200 km orbit. Payload: 620 kg (1,360 lb) to a 400 km orbit.
---
---
Family: aircraft-launched, ICBM, orbital launch vehicle. Country: Russia. Agency: Makeyev bureau.
---
Photo Gallery
---
---
ICBM-Derived LVs
The range of launch vehicles derived from decommissioned ballistic missiles offered for sale by Russia after the cold war.
Credit: © Mark Wade
---
---
---
Home - Search - Browse - Alphabetic Index: 0- 1- 2- 3- 4- 5- 6- 7- 8- 9
A- B- C- D- E- F- G- H- I- J- K- L- M- N- O- P- Q- R- S- T- U- V- W- X- Y- Z
---
© 1997-2017 Mark Wade - Contact
© / Conditions for Use
---