Home - Search - Browse - Alphabetic Index: 0- 1- 2- 3- 4- 5- 6- 7- 8- 9
A- B- C- D- E- F- G- H- I- J- K- L- M- N- O- P- Q- R- S- T- U- V- W- X- Y- Z
---
Schlidt, Rudolf Karl Hans
---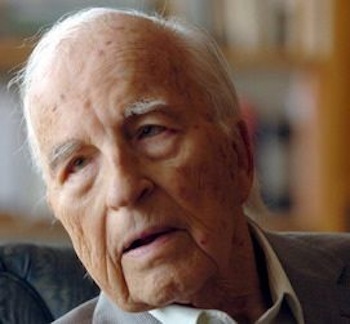 Schlidt
Schlidt, Rudolf Karl Hans
German engineer in WW2, member of the Rocket Team in the United States thereafter.
Born: 1914-07-15. Died: 2012-09-28. Birth Place: Gosh.
German expert in guided missiles during World War II. Member of the German rocket team, arrived in America under Project Paperclip on 16 November 1945 aboard the Argentina from La Havre. Fluent in French. Worked his entire life with the rocket team, at Fort Bliss, White Stands, and then at Huntsville. Still living in Huntsville, Alabama in 2004.
Obituary: Rudolf "Rudi" Hans Schlidt passed away on Friday, September 28, 2012. He was preceded in death by his parents, Antonia and Carl Schlidt of Wiesbaden, Germany. Rudolf Schlidt was one of the last surviving members of the original Wernher von Braun rocket team (Operation Paperclip) that established Huntsville, Alabama as "Rocket City" in the United States. He was born July 15, 1914 in Goch, Germany. He studied for his engineering degree at the State Institute for Applied Technology (the Staatliche Hochschule, Koethen-Anhalt). His studies were, however, interrupted when he was drafted for service in World War II. After he was wounded in combat, he was called to Peenemünde, where he served as an engineer for rocket construction, testing and research of high temperature materials. At the end of World War II, he married Dorothea Kersten, then secretary of Dr. Wernher von Braun. Mr. Schlidt came to the United States with the von Braun team at the close of World War II to establish the United States' program in rocketry. He was originally stationed in Fort Bliss, Texas, where Dorothea later joined him. In 1950 the family moved from Fort Bliss to Huntsville, Alabama. He began work at Redstone Arsenal as the assistant director of the Army Material Test Lab. From 1957 to 1958 he worked closely with Cape Canaveral and was a major project manager for the Explorer I, the first US satellite. He holds several patents and co-patents. From 1963 to 1979, Rudolf and his family lived in Germany and Belgium. During this time, Rudolf worked on special projects for various United States aerospace companies. He ended his career as United States representative for the General Dynamic Corporation in Bonn, Germany. After his retirement, the family returned to Huntsville, Alabama where they enjoyed life with dear friends and neighbors on their beloved Monte Sano Mountain. Rudolf is survived by Dorothea, his wife of 67 years; four children, Sabina Garrett (Geoffrey) of Mercer Island, WA, Kersten Schlidt of Huntsville, AL, Gwendolyn Huss (Christian) of Germany, and Gabriella Schlidt of Atlanta, GA. He has six grandchildren, Jennifer, Benjamin, and Gabriella Garrett, all of Seattle, WA, and Andrea Blank (Hermann), Alexander, and Jessica Huss, all of Germany. He is survived by two great-grandchildren, Benjamin and Tim Blank of Germany.
---
Rudolf Schlidt, one of the last surviving members of Wernher von Braun's original "Paperclip" rocket team, has died in Huntsville. Schlidt, who died Friday, was 98.
Schlidt was a guided missile expert who was with von Braun developing the V-2 missile in Germany in World War II. His expertise was "rocket construction, testing and research of high temperature materials," according to his obituary. He accompanied von Braun to Fort Bliss, Texas, after the war and later to Huntsville, where the team led development of America's first missiles and later the Saturn V that took Americans to the moon. The team was code-named "Paperclip" by American military and intelligence services at the end of the war.
In a 2008 interview with The Huntsville Times on the occasion of NASA's 50th birthday, Schlidt recalled the war and his early life in America. Drafted into the German army, Schlidt said he thought he was bound for a parachute team but ended up at Pennemunde where the Germans were developing the V-2. "We were far from the war …," Schlidt said. "It was a nice assignment." When the Allies bombed the missile factory, it became "hell." The scientists and engineers were evacuated in 1945, and Schlidt eventually made his way to America with the team. He weighed 136 pounds.
Von Braun's team moved to what was then the Redstone Arsenal Ordnance Rocket Center in 1949. They continued to develop the ballistic missile they were working on for Hitler, thinking it would balance whatever ballistic missile the Soviets eventually developed. "I thought we'd be going to California," he said in 2008. Instead, Schlidt ended up living on Huntsville's Monte Sano mountain with his wife, former von Braun secretary Dorothea Kersten. The area they settled with many members of the von Braun team is now designatied by a historic marker. Schlidt left the team before the moon landing to work with private industry.
"Von Braun told us, 'You must think big here in this country. … We will make it,' " Schlidt said in 2008.
---
---
Country
:
Germany
,
USA
.
Bibliography
:
1980
.
---
---
1914 July 15 -
.
---
2012 September 28 -
.
Death of Rudolf Karl Hans Schlidt. - . Related Persons: Schlidt. German engineer in WW2, member of the Rocket Team in the United States thereafter..
---
---
Back to top of page
---
Home - Search - Browse - Alphabetic Index: 0- 1- 2- 3- 4- 5- 6- 7- 8- 9
A- B- C- D- E- F- G- H- I- J- K- L- M- N- O- P- Q- R- S- T- U- V- W- X- Y- Z
---
© 1997-2019 Mark Wade - Contact
© / Conditions for Use
---