Home - Search - Browse - Alphabetic Index: 0- 1- 2- 3- 4- 5- 6- 7- 8- 9
A- B- C- D- E- F- G- H- I- J- K- L- M- N- O- P- Q- R- S- T- U- V- W- X- Y- Z
---
Rockoon
---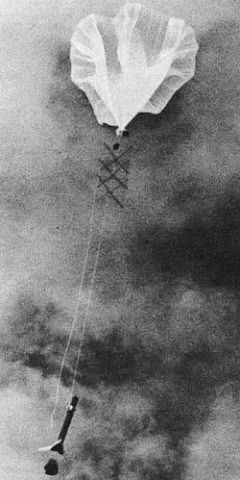 Rockoon
Credit: NASA

American air-launched sounding rocket. The Rockoon (balloon-launched rocket) consisted of a small high-performance sounding rocket launched from a balloon above most of the atmosphere. The Rockoon low-cost technique was conceived during an Aerobee firing cruse of the Norton Sound in March 1949. Rockoons were first launched from icebreaker Eastwind off Greenland by an ONR group under James A. Van Allen. They were later used by ONR and University of Iowa research groups in 1953-55 and 1957, from ships in sea between Boston and Thule, Greenland. A variety of upper stage rocket stages were used.

Status: Retired 1992.

From NASA SOUNDING ROCKETS, 1958-1968 - A Historical Summary, NASA SP-4401, 1971, by William R. Corliss
Rockoons have been mentioned several times in the preceding pages, particularly in connection with the Deacon rocket. The Deacons were used on most rockoons, but a rockoon is actually the combination of any balloon with any rocket. The rockoon concept seems to have been originated by Lt. M. L. (Lee) Lewis during a conversation with S. F. Singer and George Halvorson during the Aerobee firing cruise of the U.S.S. Norton Sound in March 1949. The basic idea is to lift a small sounding rocket high above the dense atmosphere with a large balloon in the Skyhook class. Once enough altitude is attained, the rocket is fired by radio signal straight up through the balloon. The rocket will reach much higher altitudes than it could from the ground. The rockoon has turned out to be a simple, cheap way of getting high-altitude data without special facilities. Many rockoons employing Deacon, Loki, and Hawk rockets were fired between 1952 and 1960. Once satellites and high-altitude sounding rockets became available in adequate numbers, the use of rockoons declined.

James A. Van Allen first put rockoons to practical use when he and his group from the University of Iowa fired several from the Coast Guard Cutter East Wind during its cruise off Greenland in August and September 1952. 41 Van Allen was looking for high-altitude radiation near the magnetic poles and needed a vehicle that could reach well over 80 km (50 mi) with an 11-kg (25-lb) payload and yet still be launched easily from a small ship. The rockoon was the answer. With his rockoons, Van Allen detected considerable soft radiation at high altitudes - much more than scientists expected. This was one of the first hints that radiation might be trapped by the Earth's magnetic field. One drawback to the rockoon was that it had to be fired before high-altitude winds carried it out of radio range.
---
---
Subtopics
---
| | |
| --- | --- |
| | Hawk Rockoon American sounding rocket. Balloon-launched Loki with larger fins for stability at high altitudes. The larger Loki II motor was used from 5 August 1957 as part of the IGY. This variant could reach 122 km and was called the 'Hawk Rockoon'. |
---
Family: aircraft-launched. Country: USA. Agency: SUI. Bibliography: 17, 2.
---
---
1949 March 1 - . Launch Platform: AVM1. Launch Vehicle: Rockoon.
Rockoon concept. - . Nation: USA. Related Persons: Van Allen.

Concept of launching of small high-performance rockets suspended from a balloon above most of the atmosphere (later called "Rockoons"), developed by Cmdr. Lee Lewis, Cmdr. G. Halvorson, S. F. Singer, and J. A. Van Allen during Aerobee firing cruise of U.S.S. Norton Sound.
---
1952 July 29 - . Launch Platform: WYG-279. Launch Vehicle: Rockoon.
First Rockoon launch attempt. - . Nation: USA. Related Persons: Van Allen.

First Rockoon (balloon-launched rocket) launched from icebreaker Eastwind off Greenland by ONR group under James A. Van Allen. Rockoon low-cost technique was later used by ONR and University of Iowa research groups in 1953-55 and 1957, from ships in sea between Boston and Thule, Greenland.
---
1952 December 15 - . Launch Vehicle: Rockoon.
Navy launches from balloons - . Nation: USA. The US Navy revealed that it had launched rockets from balloons in the geomagnetic North Pole area for cosmic ray research..
---
1955 July 1 - . Launch Vehicle: Rockoon.
---
---
Home - Search - Browse - Alphabetic Index: 0- 1- 2- 3- 4- 5- 6- 7- 8- 9
A- B- C- D- E- F- G- H- I- J- K- L- M- N- O- P- Q- R- S- T- U- V- W- X- Y- Z
---
© 1997-2017 Mark Wade - Contact
© / Conditions for Use
---