Home - Search - Browse - Alphabetic Index: 0- 1- 2- 3- 4- 5- 6- 7- 8- 9
A- B- C- D- E- F- G- H- I- J- K- L- M- N- O- P- Q- R- S- T- U- V- W- X- Y- Z
---
RD-862
---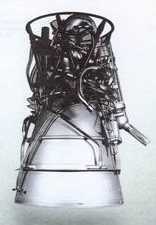 RD-862
Credit: Yuzhnoye

Yuzhnoye N2O4/UDMH rocket engine. MR-UR-100 / RS-16 (SS-17) stage 2. Out of Production. Based on RD-857. Thrust vector control by secondary gas injection into nozzle. Roll control via special small jet nozzles.

AKA: 15D169. Status: Out of Production. Date: 1969-72. Thrust: 142.63 kN (32,064 lbf). Unfuelled mass: 192 kg (423 lb). Specific impulse: 331 s. Burn time: 195 s. Height: 1.68 m (5.50 ft). Diameter: 0.93 m (3.04 ft).

Engine: 192 kg (423 lb). Chamber Pressure: 132.40 bar. Thrust to Weight Ratio: 75.75. Oxidizer to Fuel Ratio: 2.55.
---
---
Family: Storable liquid. Country: Ukraine. Launch Vehicles: MR-UR-100. Propellants: N2O4/UDMH. Agency: Yuzhnoye. Bibliography: 348.
---
---
Home - Search - Browse - Alphabetic Index: 0- 1- 2- 3- 4- 5- 6- 7- 8- 9
A- B- C- D- E- F- G- H- I- J- K- L- M- N- O- P- Q- R- S- T- U- V- W- X- Y- Z
---
© 1997-2017 Mark Wade - Contact
© / Conditions for Use
---