Home - Search - Browse - Alphabetic Index: 0- 1- 2- 3- 4- 5- 6- 7- 8- 9
A- B- C- D- E- F- G- H- I- J- K- L- M- N- O- P- Q- R- S- T- U- V- W- X- Y- Z
---
R-11 stage
---
Part of R-17 Family
---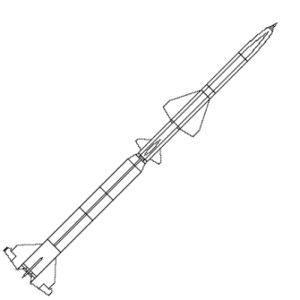 EKR ramjet 160 pixel
Credit: © Mark Wade

Nitric acid/Kerosene propellant rocket stage. First Russian ballistic missile using storable propellants. Enlargement/elaboration of German Wasserfall SAM. Developed by Korolev OKB, then Makeyev OKB spun off to develop Army and SLBM derivatives. Range 270 km with 690 kg, accuracy 1.5 km/0.75 km. Maximum altitude 78 km. Time of flight 5.4 minutes. Max velocity at burnout 1430 m/s. Source: Wall chart, Russian Space Agency HQ, Moscow.

AKA: 8A61;R-11. Status: Retired 1965. Thrust: 93.28 kN (20,970 lbf). Gross mass: 4,660 kg (10,270 lb). Unfuelled mass: 955 kg (2,105 lb). Specific impulse: 251 s. Specific impulse sea level: 219 s. Burn time: 78 s. Height: 7.42 m (24.34 ft). Diameter: 0.88 m (2.88 ft). Span: 1.82 m (5.96 ft).
---
---
Country: Russia. Engines: S2.253. Launch Vehicles: R-11, R-11M, R-17, R-11A, R-11A-MV. Propellants: Nitric acid/Kerosene.
---
---
Home - Search - Browse - Alphabetic Index: 0- 1- 2- 3- 4- 5- 6- 7- 8- 9
A- B- C- D- E- F- G- H- I- J- K- L- M- N- O- P- Q- R- S- T- U- V- W- X- Y- Z
---
© 1997-2017 Mark Wade - Contact
© / Conditions for Use
---