Home - Search - Browse - Alphabetic Index: 0- 1- 2- 3- 4- 5- 6- 7- 8- 9
A- B- C- D- E- F- G- H- I- J- K- L- M- N- O- P- Q- R- S- T- U- V- W- X- Y- Z
---
R-110
---
Part of Taifun
---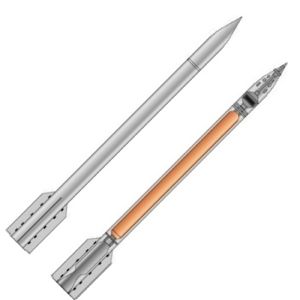 R-103
Credit: © Mark Wade
Larger caliber Russian version of the German Taifun anti-aircraft barrage rocket. Developed and tested in 1948-1956 and reached the initial production stage, but cancelled due to the inability to produce an economical rocket with the necessary consistent range accuracy for the barrage role.
Status: Cancelled 1957. Payload: 2.00 kg (4.40 lb). Thrust: 10.67 kN (2,398 lbf). Gross mass: 47 kg (103 lb). Height: 2.58 m (8.45 ft). Diameter: 0.12 m (0.40 ft). Span: 0.24 m (0.78 ft).
Design of the R-110, a larger-caliber R-110 version of the German Taifun antiaircraft barrage rocket, began in 1948 at Sector 6 of NII-88 under Pavel Ivanovich Kostin. The draft project was completed on 3 September 1948, and the decision was taken to develop two versions: the expendable self-destructing R-110B (including the R-110B2 Chirok with a recoverable engine section, returned to earth by parachute), the R-110A, and the R-110V Chirok P. Later versions without either capability -'null' versions - were designated Chirok N. All variants used propellants that required an igniter to begin combustion.
The first experimental test series at Kapustin Yar consisted of 26 launches between June and July 1950. These were considered successful, but improvements in materials and quality assurance would be needed to assure consistent accuracy and range for the rockets. In 1952 development was moved to OKB-3 of NII-88, under the direction of Chief Designer Dominik Dominikovich Sevruk. Hypergolic propellants were introduced, as well as a new thrust chamber head, selected after tests of 31 variants. Sixty of the new version of the missile were tested in a launch campaign in August-September 1953. However, even with all of the improvements, consistent range for the rockets could still not be achieved. By March 1954 a series of controlled static tests of the engine unit was completed, and a new flight series of the 'Chirok' was conducted between 24 May and 4 October 1954. These finally demonstrated reliable engine performance and an average range of 25.4 km. The test project was considered completed and in 1955 the Kovrovsk Mechanical Factory was designated as the production site. In March-April 1955 a further 149 experimental missiles were fired. However consistent range was still impossible to achieve. Therefore Decree 17 of 3 January 1956 reduced production to the minimum practical (240 instead of 600). A further 60 shots still could not demonstrate consistent performance, so in 1957 further work on the missile was ended. The main problems indicated in a postmortem of the unsuccessful project were the unsatisfactory accuracy of the units, and unsatisfactory development of the secondary parachute system.
Maximum range: 23 km (14 mi). Boost Propulsion: Storable liquid rocket, TG-02 kerosene/M-10, 24 kg propellant, Isp=223 s, 3.3 sec burn time, 50 atm Pc. Maximum speed: 4,550 kph (2,820 mph).
---
---
Family
:
surface-to-air
.
Country
:
Russia
.
Agency
:
Kostin bureau
.
Bibliography
:
571
,
8507
.
---
---
Back to top of page
---
Home - Search - Browse - Alphabetic Index: 0- 1- 2- 3- 4- 5- 6- 7- 8- 9
A- B- C- D- E- F- G- H- I- J- K- L- M- N- O- P- Q- R- S- T- U- V- W- X- Y- Z
---
© 1997-2019 Mark Wade - Contact
© / Conditions for Use
---