Home - Search - Browse - Alphabetic Index: 0- 1- 2- 3- 4- 5- 6- 7- 8- 9
A- B- C- D- E- F- G- H- I- J- K- L- M- N- O- P- Q- R- S- T- U- V- W- X- Y- Z
---
Quayle, J Danforth 'Dan'
---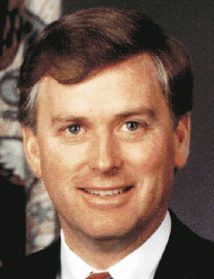 Quayle
Credit: NASA

American politician, Vice President 1989-1993, headed National Space Council, involved in development of space station and its conversion from a national to an international projects.

J. Danforth (Dan) Quayle served as a Republican Senator from Indiana before becoming George Bush's Vice President from 1989-1993. As Vice President, he chaired the National Space Council and had significant involvement with the development of the Space Station, Space Shuttle replacement options, the Space Exploration Initiative, and NASA management.
---
---
Country: USA. Bibliography: 535.
---
---
Home - Search - Browse - Alphabetic Index: 0- 1- 2- 3- 4- 5- 6- 7- 8- 9
A- B- C- D- E- F- G- H- I- J- K- L- M- N- O- P- Q- R- S- T- U- V- W- X- Y- Z
---
© 1997-2017 Mark Wade - Contact
© / Conditions for Use
---